It's a myth that women are more conservative when it comes to investments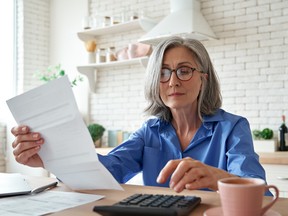 Reviews and recommendations are unbiased and products are independently selected. Postmedia may earn an affiliate commission from purchases made through links on this page.
Article content
One of my girlfriends recently called me while frantically trying to figure out her Canada Pension Plan (CPP) and Old Age Security (OAS) entitlements. We worked through everything, but it was a reminder of the important role women play making financial decisions.
Article content
Whether it's planning, investing or thinking about retirement, many of my female clients are the chief financial officers of their family or are actively involved in the savings and spending decisions.
Article content
As people transition from one job to another or even from industry to industry, their financial picture becomes ever more complex. What should I do about that corporate pension? What is the best option available to let my money grow? These are decisions that need to be made together as a family.
Article content
There is a myth, however, that women are more conservative when it comes to investments. I would argue that women are actually more careful and like to conduct more research, which doesn't mean they're necessarily more conservative.
Article content
A study of 2,800 investors by Warwick Business School in the United Kingdom found women outperformed men by 1.8 per cent during the three-year study period. The researchers attributed this to three main factors: women took a long-term view toward investing, they conducted more research and they traded on average four times less than their male counterparts.
One of the tenets in investing is patience and this is an area where many women have an edge over their male counterparts. Compound growth is just that — it takes time for investments to grow. There are certainly overnight successes with more speculative investments, but it is just as likely that they will quickly lose their value as well. Most people are not interested in gambling with their retirement portfolios.
Article content
I find most of my female clients are very well-informed even if they don't think so themselves. For example, a retired client has a small position in a well-followed utility company that recently got into trouble with its debt leverage. She smartly pointed out it was the result of a recent ill-timed acquisition that management should answer for. We decided that given the company is paying a healthy dividend, we will be more patient with it. A week later, she happily mentioned she saw the company was upgraded by an analyst.
Couple want to retire early, but are their government pensions enough?

CRA generally lets you claim family medical expenses — not this time

Advisor fees, hidden and otherwise, that investors need to be wary of
Article content
More women also prefer to take a long-term view toward investing and financial planning. I am in the process of working through an estate review for a widowed client. She wants to know how best to support the next generation and she is concerned they may not be 100-per-cent ready to manage the estate. We are now actively working through a strategy and an action plan in engaging the next generation.
These are some typical conversations with female clients on various financial planning topics. Financial planning is an area where I see many female clients taking the lead. For this International Women's Day, let's celebrate women for being excellent financial stewards and encourage more of them to play a more proactive role in making financial decisions.
Rita Li is an investment adviser with RBC Dominion Securities, RBC Wealth Management.