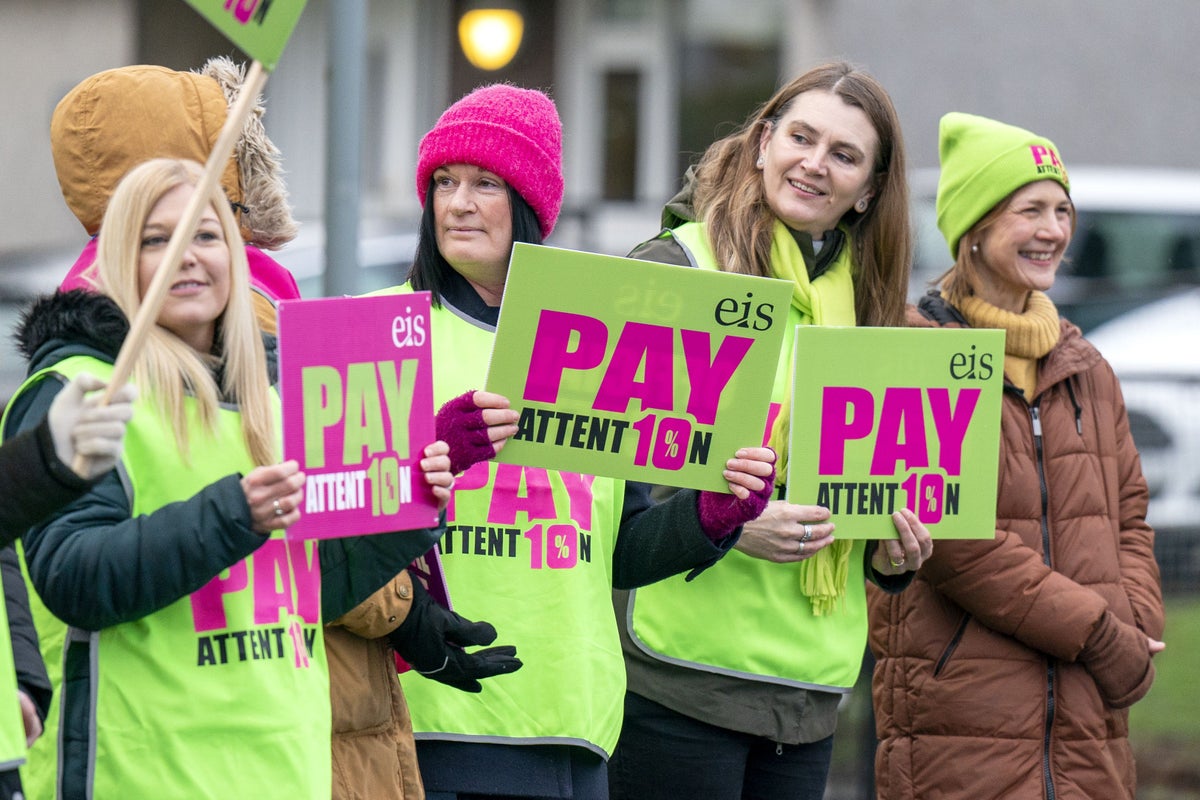 Teacher strikes planned for next week could be paused if "real progress" can be made in negotiations over pay, the National Education Union (NEU) has said.
The teaching union said it was "prepared to recommend a pause to strikes next week" to its national executive committee on Saturday in a "sign of goodwill", but only if "substantive progress" can be made in talks.
It comes after Education Secretary Gillian Keegan wrote to teaching unions inviting them to "formal talks on pay, conditions and reform" on the condition that next week's strike action in England and Wales is cancelled.
Downing Street said the offer of talks with the NEU would be put in jeopardy if planned walkouts by teachers were not called off.
Regional walkouts by NEU members are planned for February 28, March 1 and March 2, with national strike action across England and Wales planned for March 15 and March 16.
In a written statement to the Government on Wednesday, the NEU said: "We welcome the commitment to substantive and formal talks to resolve the dispute – which is fundamentally about pay and funding this year.
"In a sign of goodwill, if substantive progress can be made, we are prepared to recommend a pause to strikes next week to our National Executive Committee this Saturday."
Mary Bousted and Kevin Courtney, joint NEU general secretaries, have called on ministers to drop preconditions to talks and "begin serious negotiations".
Dr Bousted and Mr Courtney said: "We are ready to begin negotiations now. We are prepared to negotiate every day, and throughout the weekend, to make progress.
"But the Government is not willing to begin negotiations until the NEU agrees, prior to the commencement of negotiations, to pause its action next week.
"It seems incredible to us that ministers are intent on putting this obstacle in the way of substantial negotiations."
They added: "We reiterate – we are ready to negotiate. We are prepared, should the negotiations make real progress, to pause next week's strikes.
"But the Government has to show good faith. We ask ministers to drop its preconditions and to begin serious negotiations."
The Prime Minister's official spokesman said: "We're obviously disappointed given, I think, the NEU and many other unions have wanted to talk about pay and have wanted to have these discussions for some time.
"We are inviting them to have those discussions, so it is obviously regrettable they are not choosing to pause strike action.
"The discussions and the talks are on the basis that they do stop strike action – there will be no talks, obviously, if they do not take that step."
Paul Whiteman, general secretary of school leaders' union NAHT, said: "This is a ludicrous situation, created by the Government. With every move they show that they have no understanding of how to conduct good industrial relations.
"Gillian Keegan boasts that you don't need to go on strike to talk to her, but it now seems that is exactly what you have to be doing.
"After a series of meaningless encounters, the secretary of state holds out a public olive branch with thorns attached that make it impossible to grab."