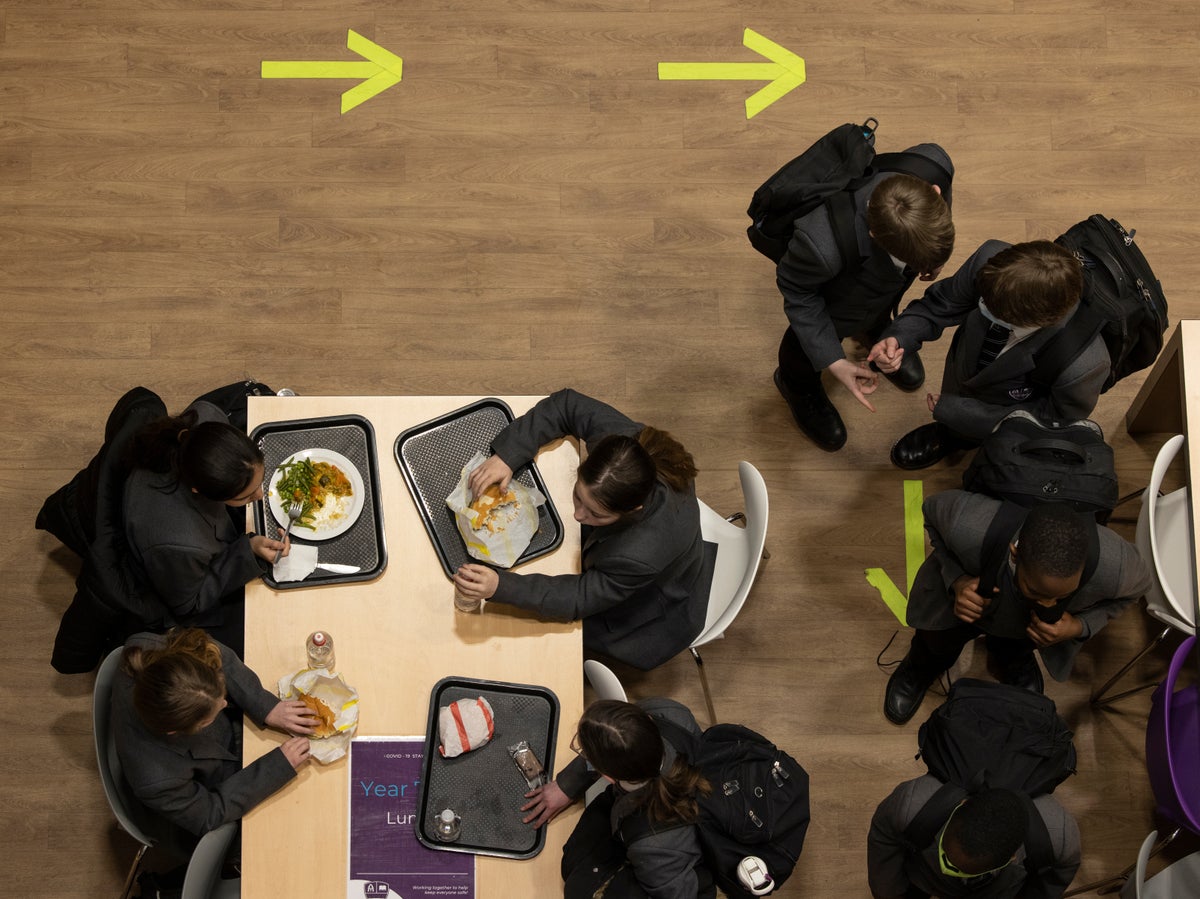 The number of children eligible for free school meals has soared to nearly two million in England, according to official government statistics.
Nearly 23 per cent of pupils now qualify – up from 20.8 per cent the year before – as the country grapples with a cost of living crisis.
The free school meals scheme is available to the most disadvantaged pupils in the UK from low-income families.
But charities warn that it does not cover all children in poverty, estimating that one third – or 800,000 – do not qualify at all.
Former education secretaries and unions have called for the free school meal eligibility criteria to be expanded to all children whose families receive universal credit, with those on incomes over £7,400 a year currently ruled out.
The latest Department for Education statistics offer some insight into the level of disadvantage in England's schools.
They show that 1.9 million pupils – or 22.5 per cent – were eligible for free school meals in January this year.
This was a rise of around 160,000 from the year before, when 1.74 million – or 20.8 per cent of the student population – qualified.
Julie McCulloch, director of policy at the Association of School and College Leaders, said it was "shocking" that one of the world's wealthiest economies was seeing "a very significant increase in the number of children eligible for free school meals, and therefore living in extremely difficult financial circumstances".
She added: "Even more shocking is the fact that current eligibility does not even capture all the children who need help.
"Free school meal eligibility now applies to 22.5 per cent of pupils, but we know that the level of child poverty is about 30 per cent."
Her union is among those organisations that have written to the chancellor pushing for free school meals to be extended to all families on universal credit.
Paul Whiteman, general secretary of the NAHT union, said he was calling for the same. "It is clear that the combined pressures of Covid-19 and the cost of living crisis have driven more families and children into poverty," he said on the latest figures.
Stephen Morgan, the shadow schools minister, described the rise in the number of children eligible for free school meals as "alarming" and "symptomatic of a cost of living crisis made worse by Downing Street".
"Unchecked inflation and Conservative choices to increase taxes are pilling the pressure on families and school budgets," he said.
Janet, who did not want to give her last name and whose son is on free school meals, told The Independent the scheme "helps a lot", especially at a time when food prices had noticeably gone up.
"It takes off the pressure of having to provide an extra meal when I'm on a very tight budget, particularly as my son is an older teenager who eats adult-sized portions," they said.
The government said the percentage of children on free schoool meals was already increasing before the pandemic, with the jump when Covid hit the largest seen in years. The latest increase was in line with those seen pre-pandemic.
All regions in England recorded a rise this year, according to the annual free school meal statistics published on Thursday.
The greatest increase in numbers eligible for free school meals happened in London and the West Midlands, where the figure is now two percentage points higher.
The largest proportion of eligible children is in the North East, with 29.1 per cent, followed by the West Midlands, with 26.5 per cent.
Mr Whiteman from the NAHT union said. "The children who have newly become eligible for free school meals are disproportionately drawn from more disadvantaged areas and are largely those pupils who already needed more support."
He added: "Free school meals eligibility should be extended to every child from a family in receipt of universal credit, with auto-enrolment.
"These children are already the victims of a decade of austerity. The government urgently needs to act to avoid these children becoming an entirely lost generation."
The Child Poverty Action Group estimated that many children were not eligible for free school meals despite being in poverty because of the £7,400-a-year income threshold for those on universal credit, no matter the size of the family.
It estimates that one in three children in poverty – or 800,000 – are shut off from means-tested free school meals.
Kate Anstey from the charity said: "We know families are being left to make impossible decisions, with many parents simply unable to afford lunches but desperately not wanting their children to go without.
"Food is vital to children's health, wellbeing and learning."
Disadvantaged pupils have long faced an attainment gap with their better-off peers – which has threatened to widen because of inequalities exacerbated by the Covid pandemic.
"The government cannot continue to stand by while children in poverty go hungry at lunchtime," Ms Anstey said as she called for universal free school meals.
Natalie Perera, chief executive of the Education Policy Institute think tank, said: "Despite the significant increases to the cost of living and the clear evidence showing the link between poverty and educational attainment, the government has done little to address the root causes of poverty."
She said there needed to be a "concerted" child poverty strategy "if the government is serious about reducing inequalities and 'levelling up'".
Carla Denyer, the Green Party's co-leader, said: "It is frankly a scandal that in one of richest countries in the world we are seeing increasing numbers of children being forced into poverty by this government's lack of action."
A government spokesperson said: "Over 1.9 million children are now eligible for free school meals, and we communicate regularly with schools and councils so they know what is available for these children."
They added: "We know millions of families are struggling with the rising cost of living, which is why we are providing over £37bn to target those with the greatest need.
"Our National School Breakfast Programme and the Holiday Activities and Food Programme are also benefiting children across the country."