Welcome to Connections, our annual celebration of Tauck adventures and shared memories as seen through the eyes of our family, our staff, our partners and of course, our guests. Enjoy!
In an amazing year filled with heartfelt anticipation, unbridled excitement, a few challenges but more successes, friendships new and renewed, and memories of good times shared and more to come, the joys we experienced throughout 2022 were varied, vast and very special to us all.
Thank you for helping make this a year to remember!
Welcome back!
Tauck's all company meetings are an annual event we all look forward to each year. They are informative and engaging with insights about our industry and our roadmap to the future. 2022 marks the first time we were able to hold an indoor meeting since 2019 – and nearly 300 of us showed up, including members of the Tauck family, our Board of Directors (pictured at right), and employees from 27 states and seven foreign countries.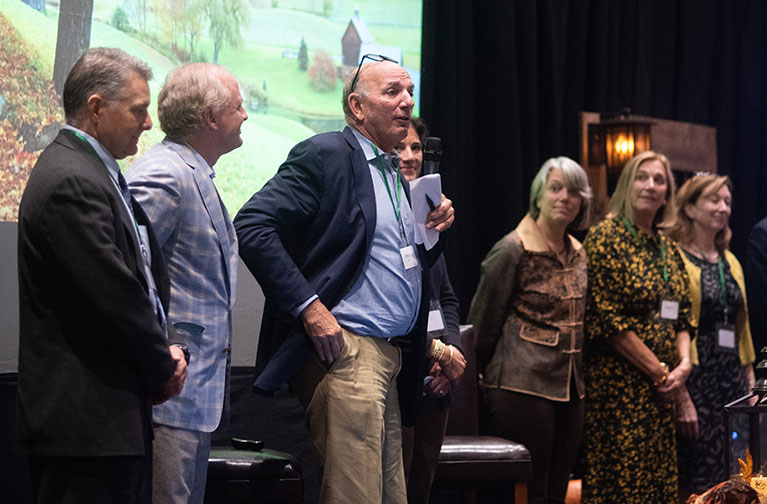 CEO Dan Mahar addressed the gathering with heartfelt opening remarks. "Restarting operations from a complete shutdown was a daunting challenge, but our staged restart in 2021 paved the way for this year's success, and in turn this year's success has given us the experience, resources and momentum to continue moving forward in 2023. It's the people that power our industry and they came together to make dreams come true for so many. Our travel advisors and partner-suppliers were critical to our success this year, and our exceptional restart wouldn't have been possible without them. Once again, we are able to be a positive force for good in our world and we are so appreciative of all the people who played a role in making this happen. Proud 2022 highlights include hosting the same number of guests we hosted in 2019 on trips in 61 different countries and all seven continents with high guest satisfaction scores to match and achieving near record-high advanced bookings for 2023!"
Not surprisingly, there were a lot of happy tears in the room as we celebrated the most pivotal year in the history of our company – and one of the biggest rebounds in the industry, approaching our pre-pandemic levels of guests!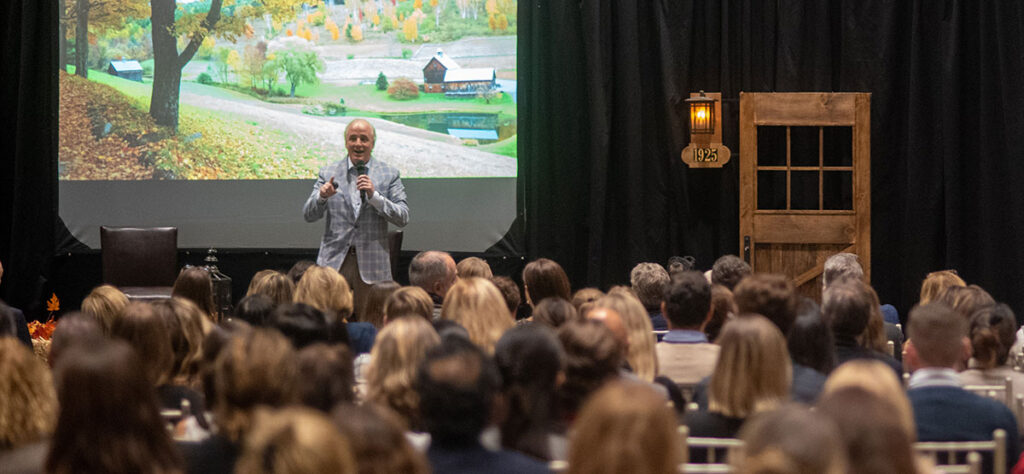 We're honored by your votes
For our 25th consecutive year, we've been recognized on the "World's Best Awards" list, thanks to the readers of Travel + Leisure magazine. What's more, we were the only company named to both the "World's Best River Cruise Lines" and "World's Best Tour Operators" lists. We also were named among Condé Nast Readers' Choice Awards in the river cruise category, another incredible honor we are proud to share with you, our loyal patrons and industry partners around the world. THANK YOU!
The 42nd Passion Play in 400 Years
Guests have to wait 10 years between performances of the "Passionsspiele Oberammergau," making it one of the most sought-after experiences in European travel. Postponed from its scheduled opening in 2020 due to Covid, the curtains went up this year in Oberammergau much to the delight of guests who attended the play during select riverboat and land journeys. Was it worth the wait? According to guest Jim van Vranken, "We will never forget our trip to see the Passion Play! Words can't explain it so I won't try to. The Palm Sunday procession and crucifixion scenes are still vivid in our memory."
Going Dutch, Tauck Style
After an unexpected one-year delay, we launched our new Cruising the Dutch Waterways river cruise this year with very happy guests aboard. From the shanty choir send-off to the Friesland horse farm to dinner with the Old Masters at the Mauritshius museum and more, the included cultural delights of this cruise were worth the wait! See what our guests saw in the video.
Over the top welcomes in Lands Down Under
Our guests haven't been to Australia and New Zealand since the pandemic shut down inbound tourism back in 2020, so when we were finally given the green light to go on our popular walkabouts, our suppliers – and the local roos and emus – were as excited as we were to welcome Tauck guests back.
All aboard!
Years in the making, our new Grand Rail Adventure: Milan, The Alps & Vienna left the station in 2022 with guests who dreamed of reliving the Golden Age of European rail travel aboard a fully en-suite train reserved exclusively for them. While our private train – the Golden Eagle Danube Express – evokes nostalgia for bygone luxuries and white-glove glamour, the incredible Alpine scenery takes your breath away. One of our guests commented that the "food and service on the train were exceptional," and "would recommend it to anyone interested in visiting Milan and Vienna who wanted a luxury train experience." Featuring four countries in eight days with three nights aboard a luxury hotel on rails, this journey has captivated our imagination for the past few years and we were so excited that it finally got underway.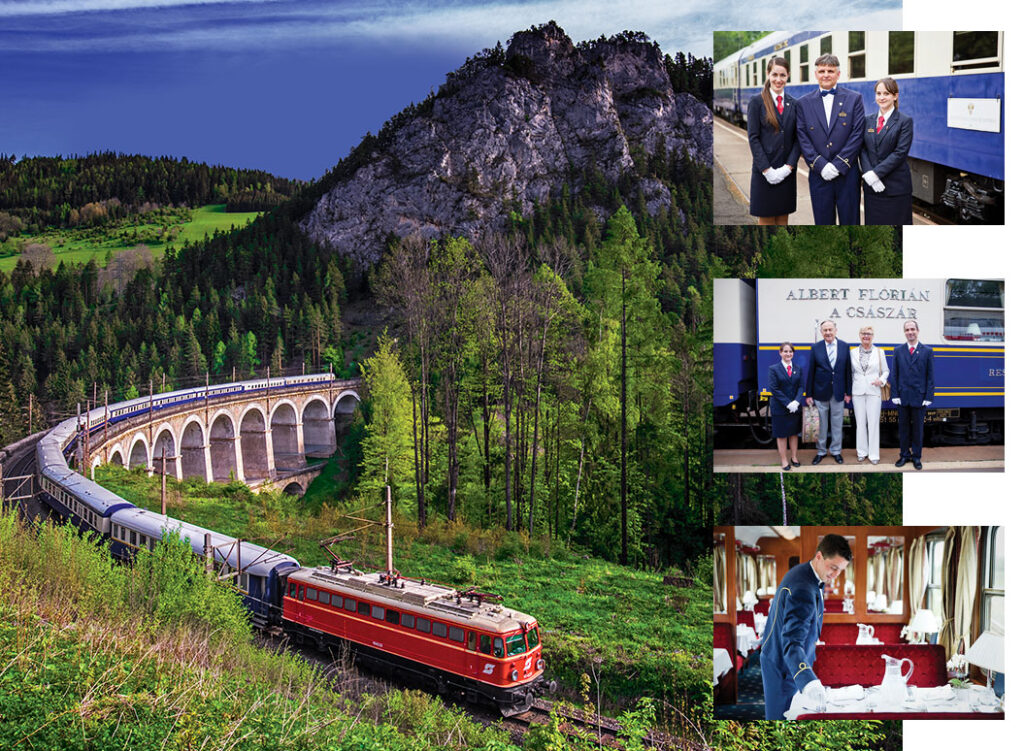 400 times the romance along the Yellow Roads of Europe
Our guests were honored to pose for this milestone photo marking the 400th departure of Romantic Germany, a tour which actually inspired the creation of our Yellow Roads of Europe journeys over 30 years ago. As the story goes, Arthur Tauck Jr, Scott Supernaw and Herbert Wiese spent the last months of 1989 and early 1990 with maps and Michelin guidebooks researching and developing itineraries that included the "Yellow Roads" on the Michelin maps; these were the secondary roads that traveled through unbelievably scenic countryside, known mainly to locals. Arthur Tauck had spent a few years in Germany while serving in the Air Force. During these years he traveled frequently, often taking bicycle treks along the back roads and byways of European countries, passing through quaint, picture-postcard villages. He wanted to share places like these with our guests – and the concept of Tauck's Yellow Roads of Europe journeys was born. Romantic Germany was one of our first Yellow Roads journeys and it debuted in 1991. A big thank you to Tauck Director Gabriella Bartha for sharing this momentous occasion with us!
The letters, emails and photos we receive from our guests speak volumes about their experiences with us and they're the reason why our jobs here at Tauck are so rewarding. We're happy to share a few of them here.
A Sicilian story
When Joe and Vicki Garavaglia booked Sicilian Odyssey, Joe thought he knew a lot about Sicily. He is Italian after all. Much to his delight, he discovered that Sicily has some of the best sights in the world, writing "I have to tell you that in all my 50 years of travel, this tour has to be one of the best I have ever taken. Our Tauck Director, Melisa Colabella, made the trip with her knowledge and love of Sicily and made us feel we were all her family."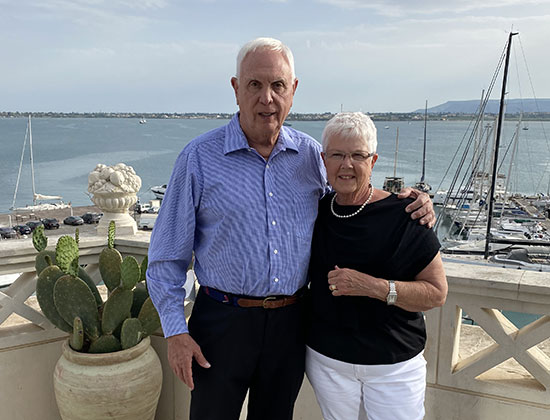 Where in the world is Smiling Sam?
We enjoy reading our Travel Forum to see what our guests like Smiling Sam are saying about their Tauck trips. The pictures he has posted and posed in always put a smile on our faces! Can you guess which trip he took with us in 2022? Here's a hint: visit Smiling Sam's forum discussions.
The BEST Grandma in the whole entire world!
When 12-year-old Scout traveled with her grandmother on one of Tauck Bridges most popular family adventures, Red Rocks and Painted Canyons, she wrote that it was the highlight of her summer and the most fun she ever had. But even more telling, she said "I also loved having you to myself for one whole week. You're the BEST GRANDMA in the whole entire world. Thank you for everything!!!!"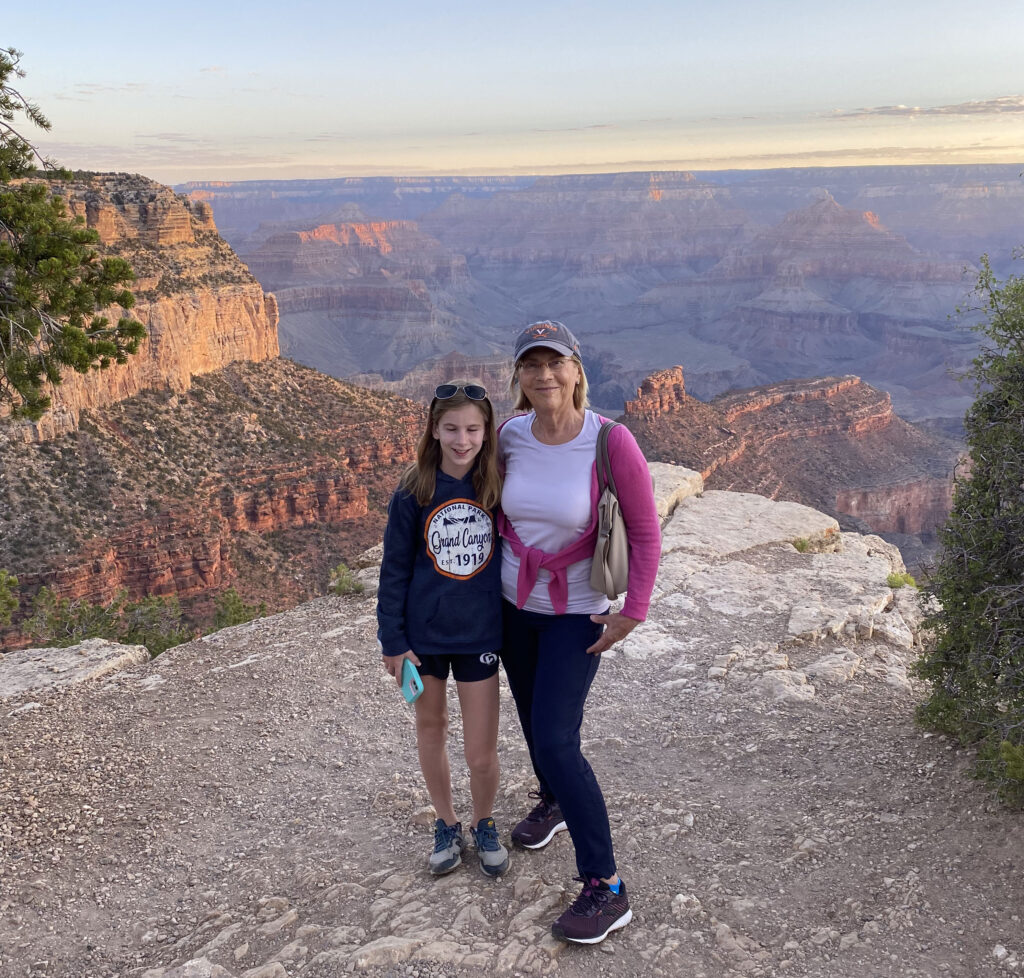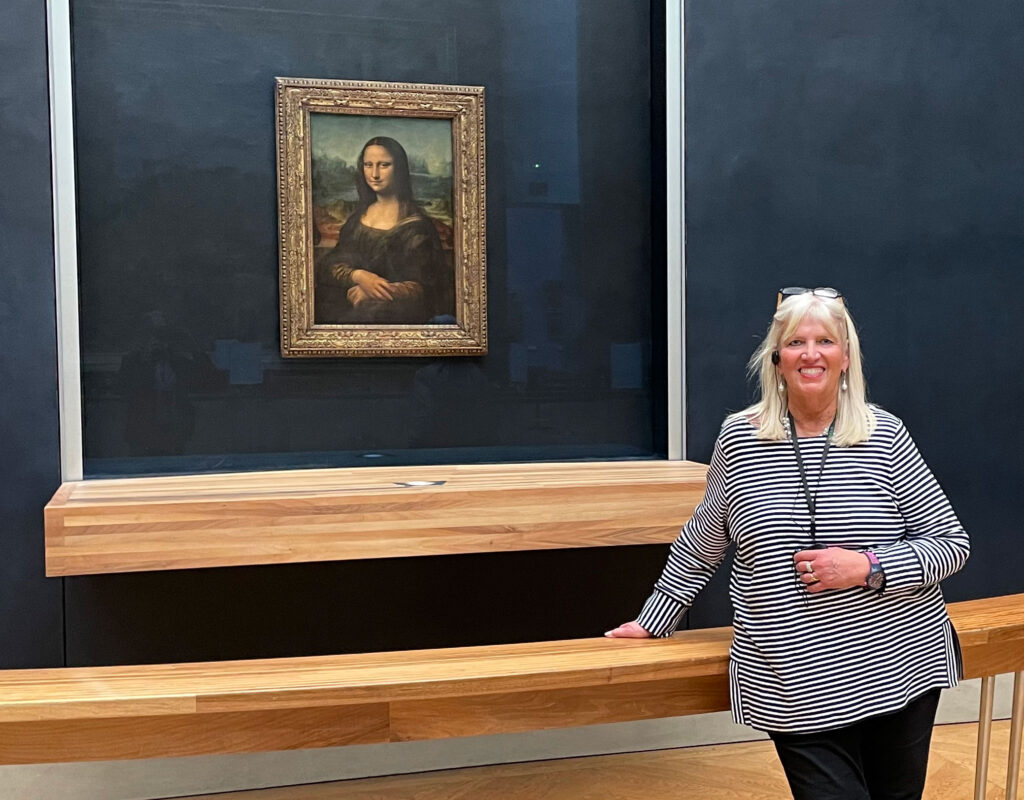 That Mona Lisa smile
Meeting Mona Lisa during "an after-hours tour of the Louvre Museum. Alone with all the majestic glory…" has a way of putting a very special smile on our guests' faces as evidenced by Deborah McAfee's photo taken on A Week in… London and Paris.
Wild things
Seeing lions, tigers and zebra mares on an Africa safari never gets old. And even though Mrs. Gary Dunker had experienced a luxurious safari before, she told us Tanzania: A Grand Family Safari "far exceeded anything I could have even hoped to see and do." The photos she shared with us (below) were some of her favorites.
"I can hardly believe the animals we saw, herds, herds & more herds, everywhere we looked. The Big Five, the Little Five, The big nine, a cheetah on a successful hunt, leopards sleeping in a tree, my first male lions, black rhinos, giraffes doing the artistic beautiful 'dominance dance', elephants circling the baby for protection, hyenas on the hunt, zebras and wildebeests together. Something around every proverbial corner!"

Back to the future
Traveling back in time is part of the fun of visiting places like Italy, especially when you experience activities that families did in the past. On Italia Bella: Rome to Venice, our guests enjoy exploring Florence in vintage Fiat 500s. That nostalgic ride really resonated with Barry Slade, who was traveling with his wife and granddaughter. When he returned home, he sent us a photo taken in 1965 of his very first sports car, a Fiat 500, that was similar to the one his family rode in with Tauck Bridges in Italy in 2022.
Death Valley never looked so good
Twig and Jim Hickam along with Bob and Marilyn Faulks have traveled the world with Tauck, bringing friends and family along to share the fun and photos. Twig has been a veritable Pied Piper for Tauck, sharing her enthusiasm and introducing us to many new-to-Tauck guests over the years. Bob, photographer extraordinaire, has graciously shared his travel photos with us, many of which have appeared in our brochures. This year Twig, Jim, Bob, and Marilyn joined friends Lamarr and Mary Hirsch on Desert Oasis: Zion, Death Valley & Palm Springs where they succeeded in making the desert landscapes come alive with lasting memories!
Spoiled by Tauck
Joining us aboard river cruise Holland & Belgium in Spring this year, Helen McGlashen enjoyed making friends with like-minded travelers on her trip as well as the little Tauck touches that surprised her along the way. Waffles on the coach, Ghent noses on the walking tour, the chocolates from Bruges, the Dutch shanty singers, private out of hours viewings, the list could go on. What, impressed her the most, however, was the skill and experience of our team.
"On the trip we experienced fog one morning on the way to Antwerp. The result was we were moored some distance from our destination. Yet within a very short time, we were on the road in coaches with a slightly revised itinerary but covering everything we expected. By comparison, the boat moored next to us had passengers sitting in their lounge watching us troop by on our way out to explore the sights. I recall being advised that going on a Tauck holiday will spoil me for those being run by others and now I can see why."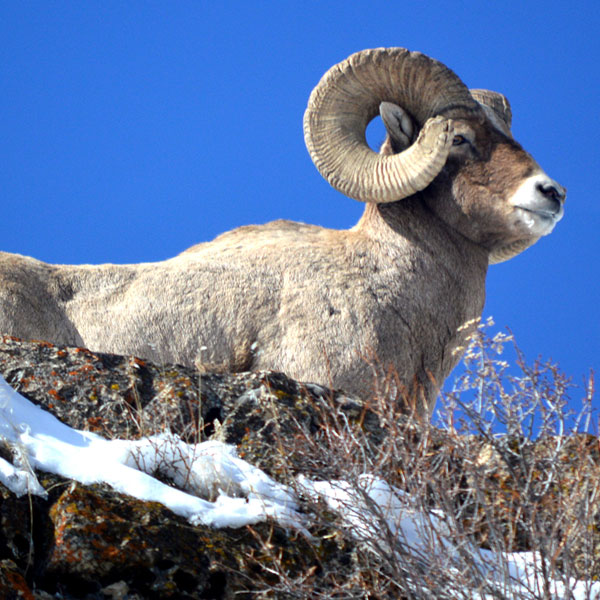 Wonders of Yellowstone in Winter
In addition to its famous geysers and diverse landscapes, Yellowstone National Park is renowned for its wide variety of wildlife. It's the only place in the U.S. where bison have lived continuously since prehistoric times. It is home to bears, elk, eagles, gray wolves and more. The best time to see them is in winter when tourists are few. And the best way to spot them is with expert naturalists skilled in following their tracks like our guests do on Wonderland: Yellowstone in Winter.
"The guides for our Lamar Valley tour in Yellowstone National Park were exceptional at finding wildlife photo opportunities. Their passion for the park and the wildlife is unsurpassed. A Big Horn sheep majestically posed on a roadside cliff. The Junction Butte Wolfpack through a spotting scope. We could hear them howling as soon as we got out of the vans. After 150 years, the first National Park continues to inspire and impress especially against the starkness of winter."
Treasured memories!
Exploring Morocco is amazing. And as Magic of Morocco guest Stephen Mari Go says, "There is nothing better than travelling with the family and seeing their smiles because of fun times that Tauck loves to share. This is our 3rd Tauck trip and our mom's 4th. Rest assured, once you try one Tauck tour, you'll be coming back for more. Treasured memories!"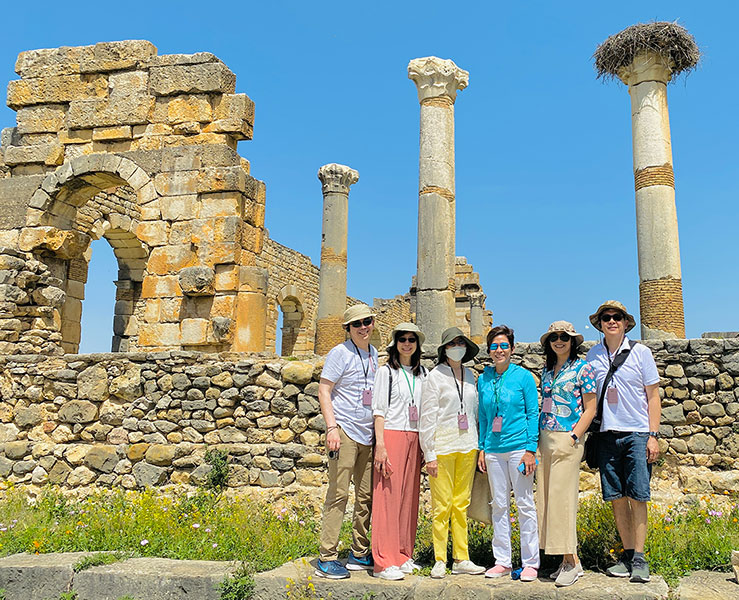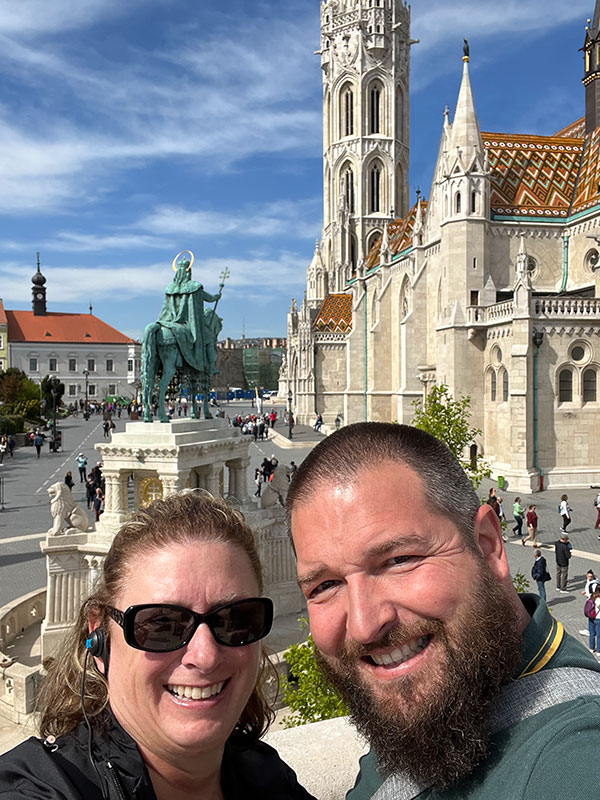 Finding her roots along the Danube
Celebrating her 9th Tauck trip on river cruise, Heart of the Danube: Bavaria to Budapest, over Easter weekend, Mary Myers experienced a true journey of the heart. Not only did she reconnect with familiar faces among the ship's crew, including Tauck Director Gernot Obermaier, she was able to visit all of the countries from her family heritage: Austria, Germany, Hungary and Czech Republic on her cruise. We can't wait to see what she discovers on her 10th Tauck trip in 2023.
The trip of my lifetime
If you remember writing those "How I spend my summer vacation" essays back in school, Ramsie Pittman's report may bring back fond memories of your favorite summer vacation too. Ramsie and her aunt Kelly traveled on the Tauck Bridges' Alaska: Call of the Wild experiencing a lot of first-time experiences she will never forget.  From her first views of Alaska aboard the plane, the sled dog puppies she held and the bald eagles she spotted on her jet boat ride to her guided hike, scavenger hunt and homesteader visit, she was hooked on this trip from the get go. Add the kids she made friends with, flightseeing over Denali, kayaking on Kenai Lake, horseback riding, gold panning and the picture-perfect glacier cruise, she experienced many perfect days. What was her biggest takeaway? Learning just how much traveling to Alaska with her aunt meant to her.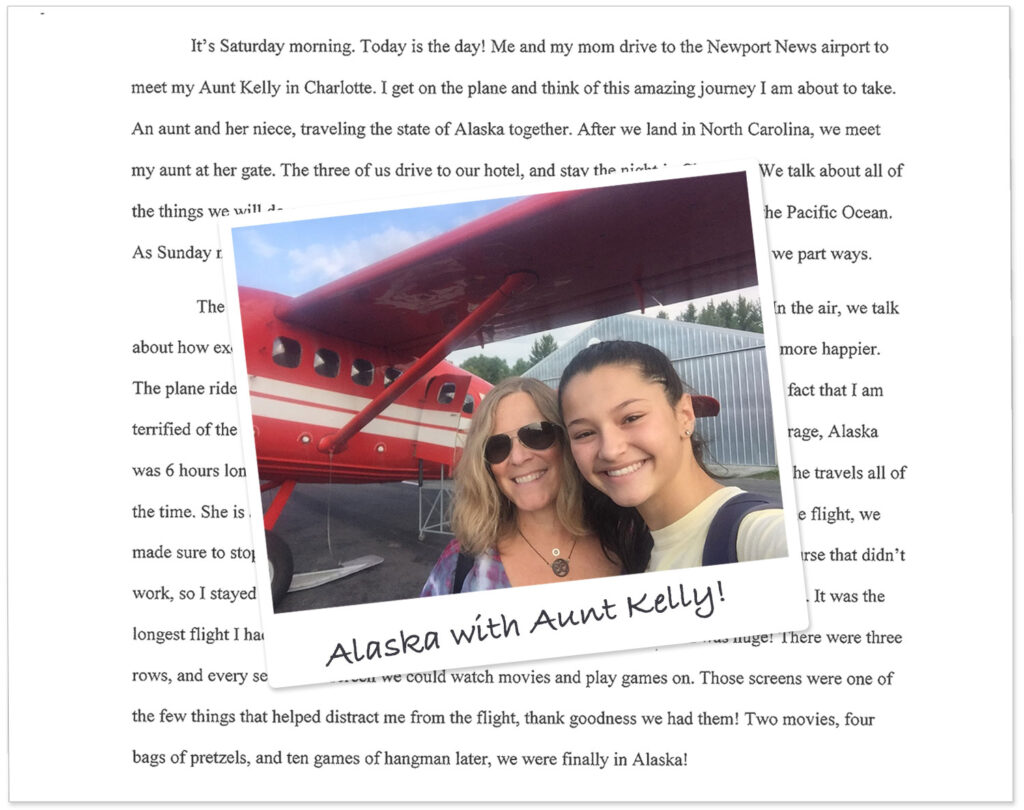 When things go sideways
After testing positive for Covid on one of their back- to-back tours, 9-time Tauck guests Dick Chun and his wife had to cancel their Norwegian Fjords & Coastal Treasures small ship cruise. They appreciated the full refund and extra assistance we offered them, pleasantly surprised by our mission to "always do the right thing."
"Tauck uses the word 'lagniappe' to describe the delightful surprises we receive on tour… Being piped into dinner in Scotland and Ireland, witnessing sunset at Uluru with a glass of sparkling wine, being serenaded by an octet at the Postojna Caves. All memorable, but it's how companies respond when things go sideways that really make a difference. Their Tauck Directors always have a Plan B on tours. And now we've seen that Tauck has a Plan B for its guests too."
Compliments to the chef
Schooled in techniques and recipes that are part of the culinary heritage of France, the chefs onboard our French river cruises make dining a real pleasure for our guests. When Cathy Taylor returned home from Rendezvous on the Seine, she thanked us for a fantastic cruise with over-the-top service, noting that the food "was varied, extremely well done and delicious." Merci beaucoup Chef Grama!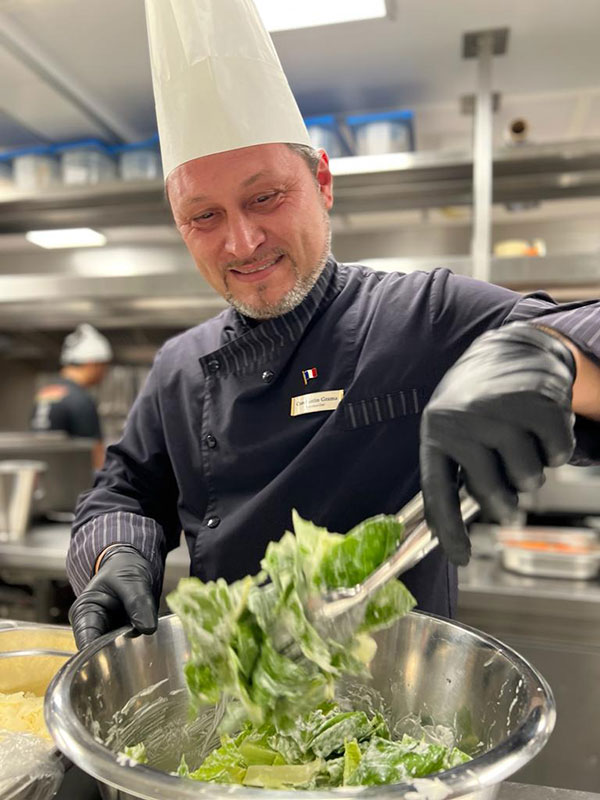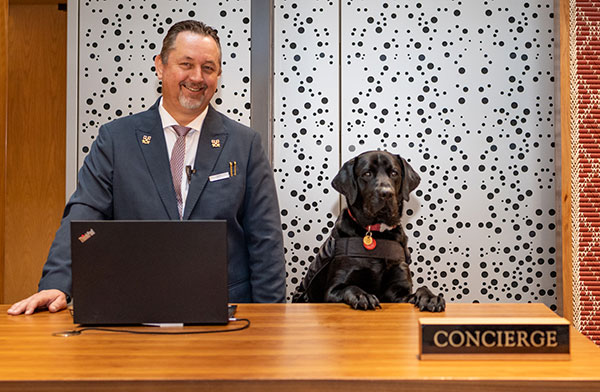 Who's a good dog?
In a new partnership between our partner hotel in New Zealand, the Park Hyatt Auckland, and a local non-profit organization, Blind Low Vision NZ, Beau the Labrador Retriever has taken up full-time residency as a canine concierge. Beau's job description includes greeting guests on arrival, assisting with luggage, monitoring guest and client movement in the lobby, playing with guests and daily rounds of the admin offices to play with his colleagues.
Bucket list wishes times 3!
Chrissy Reich's parents checked off their bucket list trip to the Grand Canyon this summer when they traveled with their kids and grandkids on Tauck Bridges' Red Rocks and Painted Canyons, "a trip that was everything they imagined and more!" To show us just how much this trip meant to them, Chrissy shared photos of three of their most special moments. "The first picture is my husband and 3 children on our rafting trip through Bryce Canyon. A highlight for sure! The second picture is of my dad gazing into the vast beauty of the Grand Canyon. The 3rd picture is our family in Zion. Just beautiful."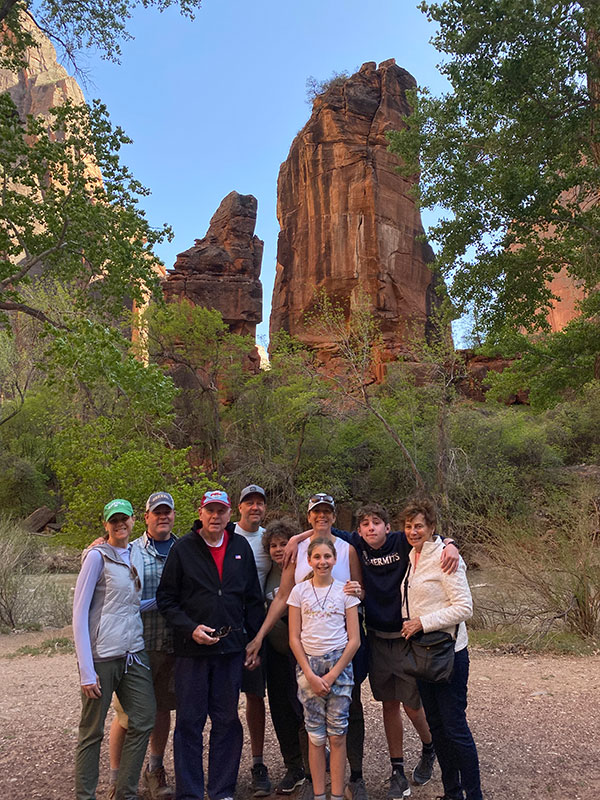 Forever smiling!
Home to fairies, folklore and family fun, Ireland is the land of a hundred thousand welcomes as its tagline, céad míle fáilte, suggests. It's also a great place for memory making as the photo of the seven teenagers who met each other on Ireland Forever attests. Nicknamed "the marvelous seven," they became fast friends on this all-family adventure.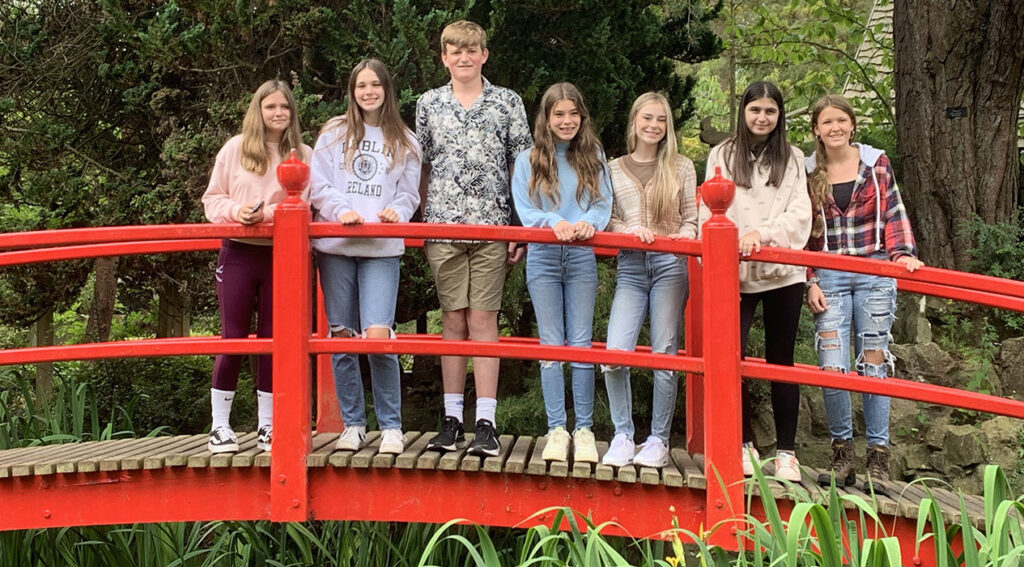 Gathering, gifting and getting away on a Christmas Market river cruise
What's the best way to wrap up the year with joyful memories that last lifetimes? Our Christmas Market river cruises are picture perfect for making spirits bright! See more Holiday cruise memories below.
"I just want to tell you what a fantastic time we had on your Christmas Market Danube River trip from Nuremburg to Vienna. I treated my 3 adult nieces for special birthdays and had the trip of a lifetime."
– Robin Henry, guest

Hope and Trust Cards:
As part of his day, Arthur Tauck looks forward to reading what our guests write and using their feedback to improve our tours and services. At the end of each journey, you may recall being asked to fill out "Hope and Trust "cards providing us with an "in the moment" review of your trip. While all comments are taken very seriously, there are a few that we classify as true gems.
"Nothing I can complain about."
"The food was outstanding – surprised no white asparagus."
"Hotel light pollution – change bulbs to dark sky friendly. We were trying to see the Milky Way!"
"In hotels, shampoo products should be shoulder height, not on the ground."
"We've been planning this trip for 2 decades and it more than exceeded our dreams & expectations."
"Eating anything you want at mealtime is amazing"
The camaraderie that goes on behind the scenes at Tauck mirrors the care, consideration and conviviality our guests and travel advisors feel when they travel with us. It's a true reflection of Arthur Tauck Sr's promise, that "a good time will be had by all."

Dinner at Arthur's
Officially celebrating a true taste of New England, Arthur and Ronni Tauck invite us to enjoy a traditional clambake at their beachfront home every summer. This year, marking our return back to Arthur's beach after a two-year hiatus, three generations of the Tauck family hosted our Wilton headquarters staff for a shorefront dinner delectable in every way. From the smiles on everyone's faces, Arthur more than lives up to the promise his father made in Tauck's first ad in 1925: "We shall be just one happy party, properly chaperoned, out for a real good time."
Old Friends Enjoy Lasting Tauck Memories
Arthur's annual clambakes are a great opportunity to reminisce about old times and Lynn Corcoran and Arthur did just that. Manager of our Business Resource Team, Lynn is one of our longest tenured employees. She joined Tauck's reservations staff in 1987, when Arthur would often stop by and work the phones with her. She recalled how Arthur used to meet the motor coaches that departed from the Waldorf Astoria in New York City for our New England tours year ago, sharing that "I went with him one day and it was one of my highlights to see how much it meant to our guests to meet Arthur Tauck." What were she and Arthur talking about when Dan Mahar took this picture? "We were talking about how it used to be and how we could keep the history of Tauck alive for our new reservationists."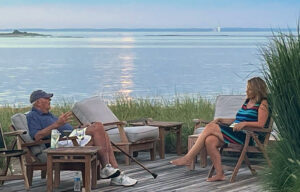 Our Sales Team is happy to be back together again
Ready to sail into a new year of travel, our Sales Team didn't waste any time reconnecting with our Advisor Partners across the globe at consumer events, conferences, advisor trainings and more this year. In October, the Tauck Sales team headed north to the Canadian Rockies for their long-awaited return of Tauck Academy, our travel advisor certification program, which includes in-depth classroom training on selling Tauck combined with a tour experience in one of our most popular destinations. This seven-day experience took 29 advisors from the US and Canada to Banff, Jasper and Lake Louise in Alberta, Canada, and was hosted in partnership with Travel Alberta. The Sales Team is looking forward to hosting its next Tauck Academy in Jordan in partnership with Visit Jordan in December 2022.
"Everything has been outstanding! I can't wait to share my new first-hand experience with my clients and encourage them to book more Tauck! Thank you from the bottom of my heart!"
Linda Zerfas, Nexion
Robin Tauck's keynote address at the USTOA's 50th Anniversary Conference
Doing what's right for our guests has been a mainstay for Tauck since our first tours back in 1925. In 1972, we were a driving force and founding member of the USTOA (United States Tour Operators Association). In November, the USTOA celebrated its 50th anniversary at their annual conference, and asked Robin Tauck to be one of four keynote speakers. She kicked off the event with a few words about the organization's Vision, then and now, and summed her talk up with a nod towards its long-standing motto, Integrity in Tourism, saying that "Commitment, Confidence, Collaboration, Community and a high respect for the Consumer is who we are; these are the enduring pillars of the United States Tour Operators Association." Today, as the only remaining founding member of the USTOA, we are proud to share the same values at Tauck.
Peter Tauck takes the mic
Travel is a real family affair at Tauck, with four generations of the Tauck family sharing Arthur Tauck's legendary love of exploring the world. Many family members have started out their travel careers as Tauck Directors! And much to the delight and surprise of our guests on tour, they enjoy taking Tauck trips too. This summer, Peter Tauck relived his days as a Tauck Director when he took the microphone on a sightseeing excursion on Egypt: Jewels of the Nile and shared family stories our guests were thrilled to hear. Take a look at the video!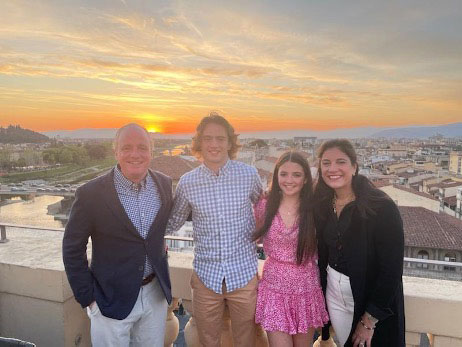 Dan and Kiki Tauck Mahar and kids in Italy
Instrumental in launching Tauck Bridges almost 20 years ago, Dan and Kiki took their two youngest children on Italia Bella: Rome to Venice this year, and from the smiles on their faces in one of their vacation photos, they felt like kids again themselves.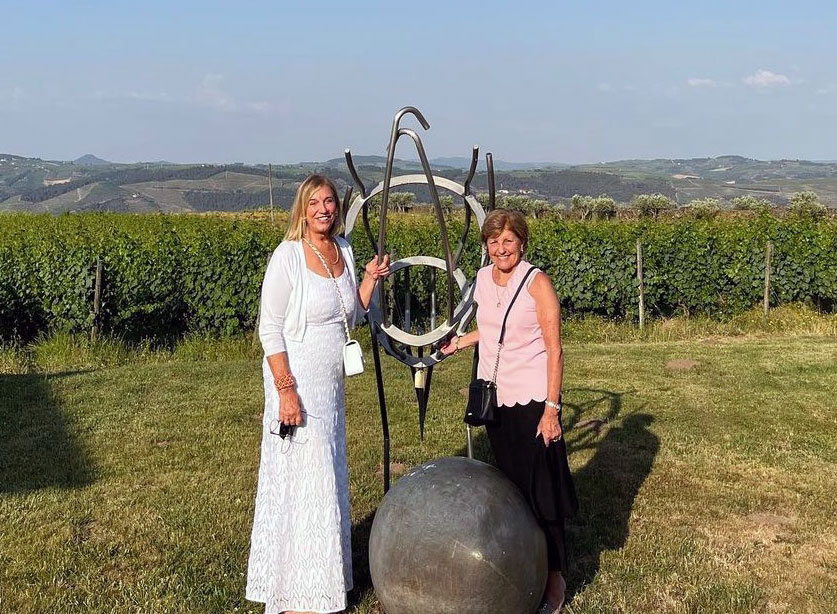 Reconnecting with our partners in London is an annual affair
Tauck President Jennifer Tombaugh, as Chairman of the Board of Directors for ETOA (European Tourism Association), and a former member of the Advisory Board, travels to London annually to attend the Global European Marketplace, ETOA's influential annual travel trade event. While there, she reconnected with Celia Sandys, Winston Churchill's granddaughter, to thank her for partnering with us. Jennifer was joined by Tour Architects Brenda MacKellar and Sanjith Mukund – and Celia was joined by her daughter Sophie – for a most enjoyable reunion.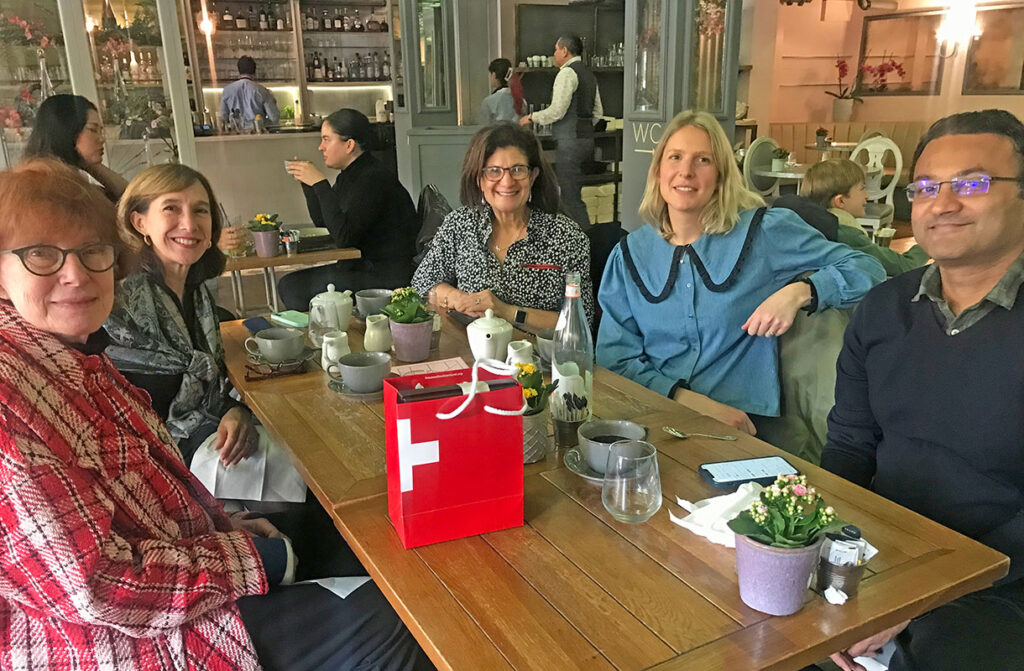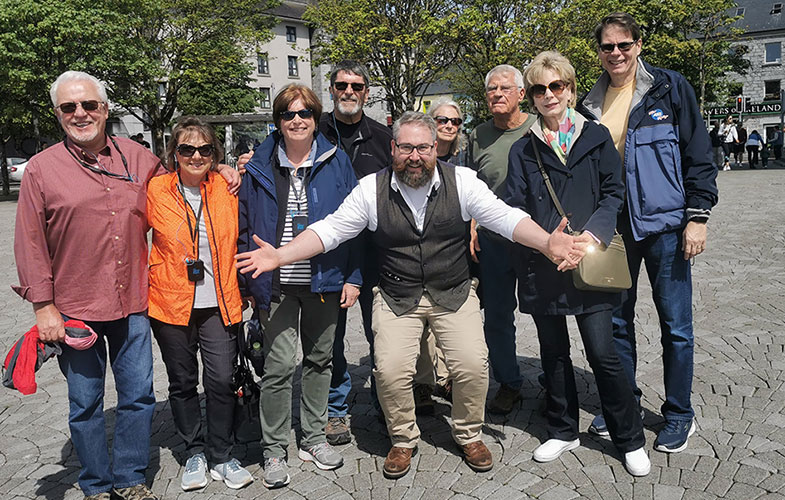 Five things you may not know about St. Patrick's Day
So that our guests enjoy the inside scoop on the places we visit, we partner with expert guides who share personal anecdotes and insights that enrich their explorations. We invited our Galway guide, John Byrne, to our weekly company meeting on St. Patrick's Day via Zoom to do the same for us. Little did we know that he would dispel some myths about this true "Irish holiday."
1. St. Patrick wasn't Irish.
2. The first St. Patrick's Day Parade was held in America.
3. St. Patrick is not referred to as Pat or Patty in Ireland.
4. Corned beef and cabbage is not a thing in Ireland.
5. Pubs in Ireland were closed on St. Patrick's Day until the 1970s when the law was repealed and revelers could raise a glass to St. Patrick.
Walking in Jerusalem
Our long-time partner in Israel and a licensed guide, Shelley Trachtenberg, took us on a fascinating virtual walk through the Old City of Jerusalem this summer, zooming in on the historic sights she shows our guests on tours like Jerusalem, The Red Sea & Petra, from The Tower of David, the Jewish Quarter and the Western Wall to the Temple Mount, the Dome of the Rock and more. She also hosted an insideTauck event that had more than 7,000 viewers, testimony to just how popular this destination is for travelers.
A Seder to remember
Tauck Director Jaime Cojac (pictured below right) is intent about making sure our guests' best interests are top of mind. She was traveling on river cruise Belgium & Holland in Spring during Passover when a group of Jewish guests asked her if they could sit together for a Passover Seder onboard ms Treasures. Jamie was able to gather all of the ingredients for the Seder plate and worked with the chef to prepare everything accordingly. She also printed out a Haggadah so the guests had the appropriate prayers to say. They were beyond appreciative!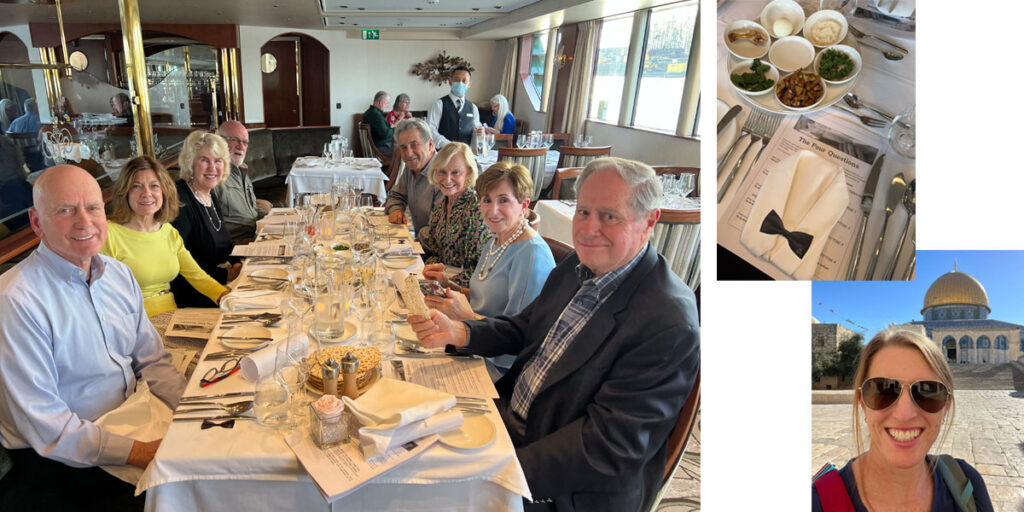 Sliding into the Salt Mines for dinner
Giving new meaning to the phrase "pass the salt," Tauck Directors Armin Geiger and Carmine Sannuto sped down the miners' slide in Berchtesgaden Salt Mines to make sure everything was on track for our guests' special dinner on The Ultimate Alps & Dolomites.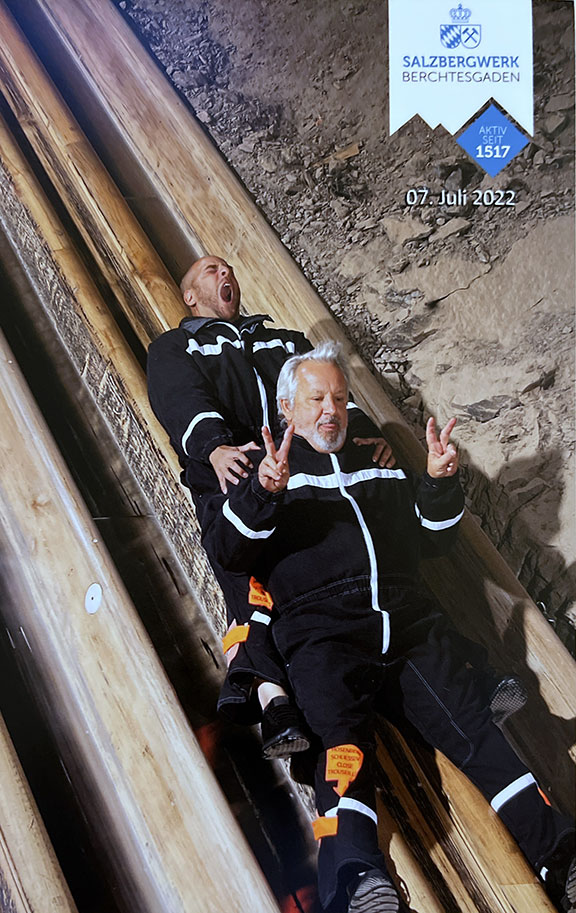 A most memorable Memorial Day cruise
Making sure guests have a good time on tour is not just lip service at Tauck. It's a way of life for our Tauck Directors out on the road, or on the river as in the case of the following story. Guests Charlie and Jane Gibbons wrote us about the "magic carpet" experiences they enjoyed on The Romantic Rhine: Amsterdam to Basel over Memorial Day, thanks to Tauck Director Pavol Hospodar and Cruise Director Joyce Gleeson-Adamidis, who orchestrated a surprise birthday celebration, and made sure guests who had mobility issues didn't miss any sightseeing experiences.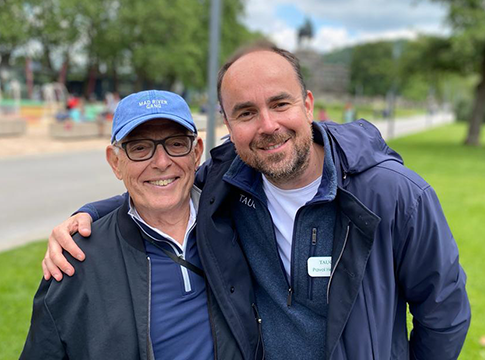 "These are just the tip of the iceberg to the personal touches, caring service and outstanding team you have assembled. They are so caring and constantly anticipating and providing the unexpected and in the proverbial 'putting oil upon a rough sea' to smooth our journey."
– Charlie Gibbons, Guest
Poetic Inspirations
When our guests write poems about their Tauck Directors, you know just how inspiring they are to travel with. We are delighted to share an epic sonnet guest Alan Schaffter penned this year about Tauck Director Debra Grant on Jordan & Egypt: Petra to the Pyramids.
Let's raise our glasses for a toast
To honor Debra who gave us her most-
For incredible sights in Petra, Giza, and on the Nile's banks
She did it all, did it well, so we owe her baksheesh, and our thanks
Could desert sand or emotions be why
As we say ma'a as-salaama or just good bye
Some are blinking, a few with moist eye
After a tour that is surely one of Tauck's best
Let's hope for a negative on our PCR test
Inshallah!
Assalamu alaikum
A bumper crop of babies
After we were shut in during the shut-down, we were delighted to welcome a bumper crop of babies to Tauck this year, where a lifelong passion for travel starts early!

In addition to welcoming guests, past and new, on each of our 150 journeys around the world, we are looking forward to celebrating anniversaries and birthdays, launching new cruises and returning to Japan in 2023.
Bridging the generations for 20 years!
We understand how fast time flies, especially when it comes to watching our children grow. It's hard to believe that Tauck Bridges will be 20 years old in 2023, virtually the same time span attributed to a generation. When we first set out to create multigenerational family journeys, we christened them under the Tauck Bridges banner, choosing the name Bridges from our goal of bridging the generational divide through shared travel experiences. From the letters and testimonials we've received over the years, from both the kids and the adults, these trips were not only the "best family vacations ever," they forged priceless family "bonds and memories that will last for the rest of our lives."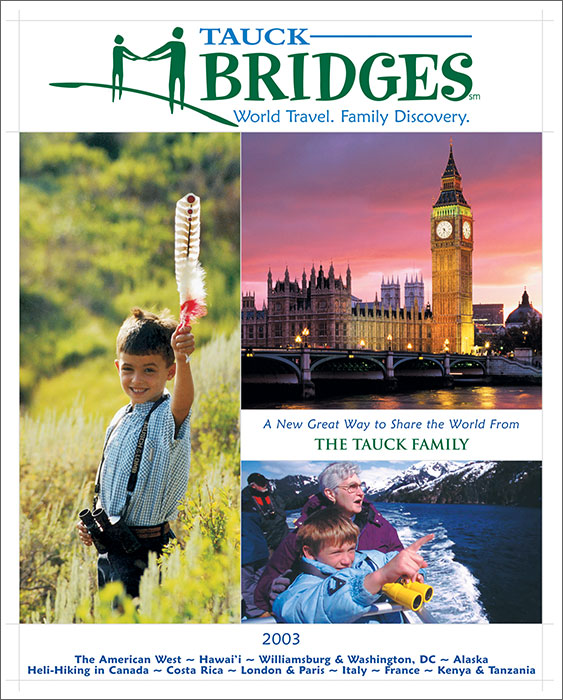 "For eight years we were able to travel on eight Tauck Bridges Tours with our daughter and her son who is our only grandson. Since we live in Puerto Rico and they lived in Maryland these really helped us reestablish strong bonds and memories that will last for the rest of our lives"
– Heriberto Pagan and Nancy Marin, Guests
Our 30th anniversary sailing the Med
For a family of sailors who grew up sailing the New England coast, the 30th anniversary of our Treasures of the Mediterranean small ship cruise in 2023 is an important milestone. Thirty years ago, we pioneered destination cruising, focusing on the best way to experience the places we sailed to, rather than the shipboard experience which is what many large cruise ships are all about. This cruise and the ones that followed were a departure from the "bigger is better" trend in cruising – and exemplified the kind of intimate sailing adventures our guests enjoy most. In 1993, when we had the opportunity to captain a small ship cruise aboard Ponant's Le Ponant in Europe, we were thrilled to chart a course for adventure on the open seas, sails billowing, cares cast overboard and ready to follow the wind to hidden harbors inaccessible to large ships. We channeled Napoleon on Elba, played Vivaldi as we approached Bonifacio, sailed past Stromboli as its lava flows lit up the night, discovered an amazing Greek amphitheatre in Taormina, and relived knights' tales in Malta. We made changes to our original itinerary as we made more Mediterranean discoveries on Sardinia and Sicily, and debuted our new Treasures of the Mediterranean Isles last year aboard Ponant's Explorer-class ships. We are still proud to partner with Ponant on this and other destination-inspired small ship cruises in Europe, the US, Antarctica, Arabia, Japan and the Panama Canal!
Welcome back to Japan
It's been a few years since we operated Cruising the Land of the Rising Sun, and we are excited that we'll be there to welcome spring in Japan, when the cherry blossoms are expected to be in full bloom in late April. In 2023, we'll be cruising between Osaka and Tokyo aboard Ponant's Le Soléal. We'll be exploring peaceful gardens, taking tea and visiting bustling markets, temples, museums and more, learning about sumo wrestlers, geishas, flying squirrels, and beer, pausing at poignant sites like Nagasaki and Hiroshima where the world changed forever. We'll even cruise to a fish market in Busan, South Korea, an incredible cultural experience in itself. We are also restarting our Essence of Japan land journey, enriched with in-depth discoveries during stays in Japan's culturally rich cities. Japan just reopened its borders to international travelers in October so you might imagine that guests who've been waiting since 2020 to join us in Japan are excited about making their dreams come true in 2023!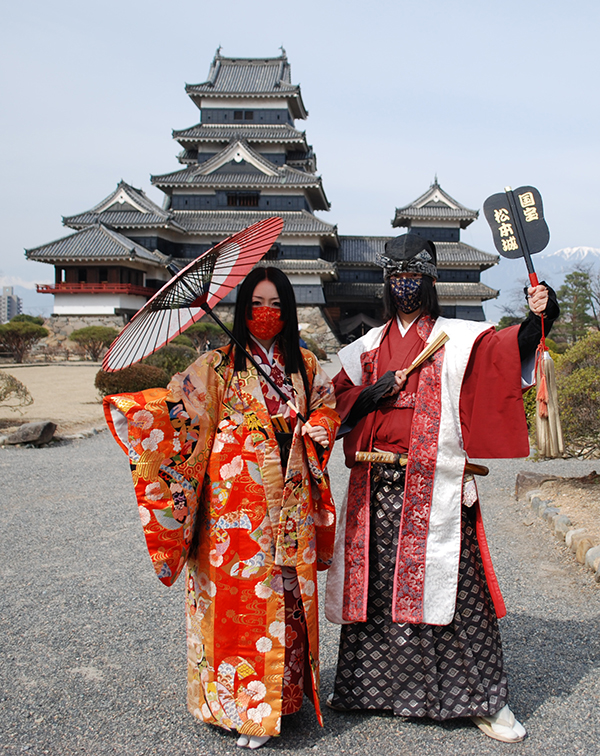 Debuting in 2023!
Worlds apart, our new cruises have a lot in common
As destinations, coastal New England and Arabia's exotic shores couldn't be any more different, but the shipboard accommodations and service you'll experience on these two new cruises are the same as the ones our guests enjoy aboard all our small ships. The similarities don't stop there. Our included shore excursions on both cruises celebrate the unique cultural influences that shaped the sites you'll see, blending past and present to offer a new perspective on places steeped in history.
Shores of Eastern Canada & New England is bookended by overnight hotel stays in Manhattan and Quebec City, and features a 10-night cruise aboard a glamorous Silversea yacht to Boston, Newport, Bar Harbor and Halifax, culturally rich, centuries-old cities that speak volumes about daily life, from their founding to their current delights today. Departures in September and October are a bonus, with peak foliage at that time of the year.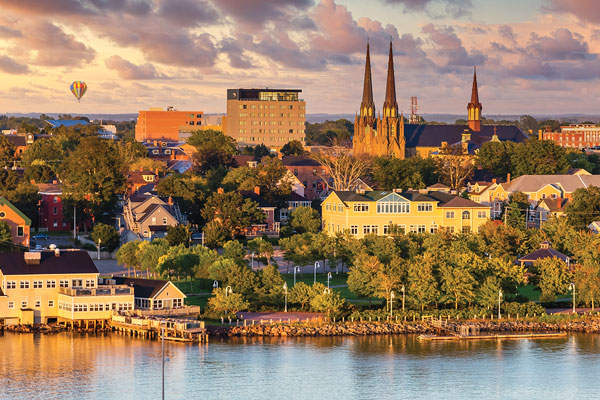 Setting sail in January, 2023, Portrait of Arabia: The Emirates, Qatar & Oman cruises aboard a Ponant ship between Muscat and Dubai where two-night stays immerse you in ancient traditions from luxury hotels. This itinerary includes palace and mosque visits, dhow cruises and falconry, shows you ultra-modern skyscrapers and forts hundreds of years old, takes you out in the desert and to a wildlife park on an ocean beach, contrasting sights that present a full picture of this exotic destination. And even though they operate at different times of the year, the moderate temperatures both destinations enjoy average in the mid-70s during the day and the high 50s at night!
In closing…
We hope you enjoyed reconnecting with us through the eyes of our extended Tauck family, which includes you! Reading your stories brings to mind a favorite quote of ours: "Travel leaves you speechless, then turns you into a storyteller." Connections pays tribute to the truth of that saying, and then some. Happy holiday to you and yours – we look forward to traveling with you in 2023.