Navigating the world of all white outfits for men is akin to walking through an art gallery where each piece studies minimalism and grace. Far from a fleeting trend, the all white ensemble has secured its place in men's fashion as a symbol of refined brass.
Whether you're stepping into a formal soirée or catching the golden hour at a summer gathering, the monochrome palette offers a versatility that's both timeless and contemporary. Our curated guide is your roadmap to mastering this sartorial art form, from double denim to the quintessential white tee.
All White Outfits for Men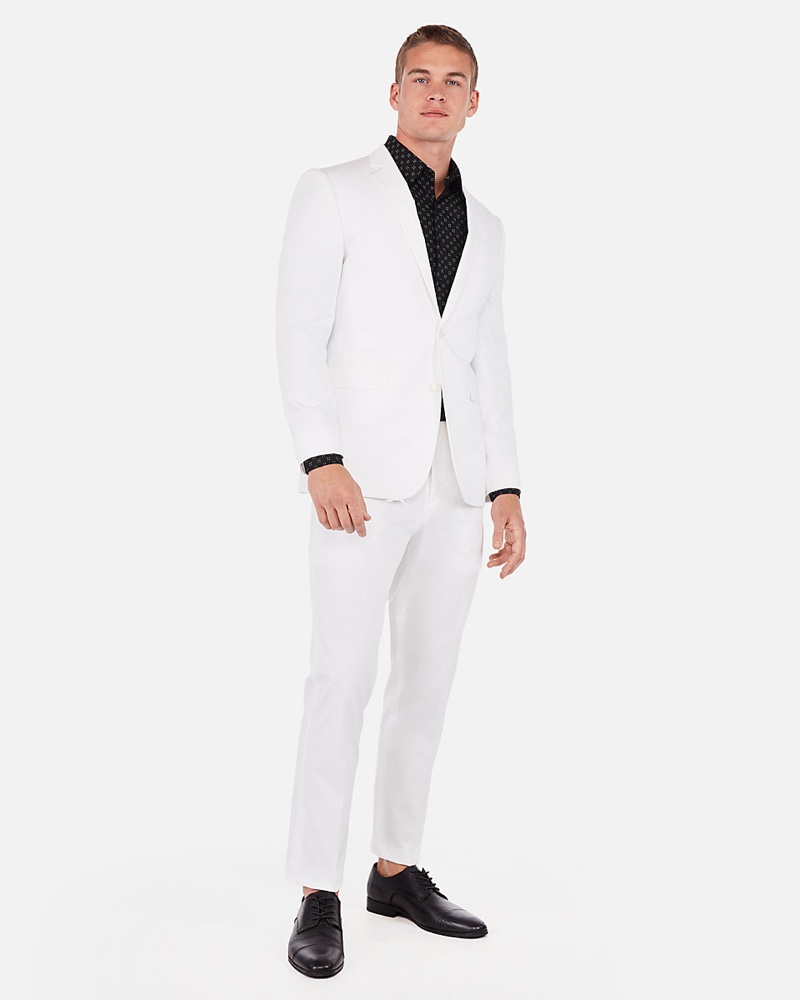 Are you contemplating a white outfit that transcends the ordinary? Consider incorporating a white blazer or slim pants into your all white ensemble, a style statement that's far from monotonous.
From streetwear that turns heads with color-blocking to navigating the urban jungle in white pants, the all white look offers a canvas for self-expression—from the subtleties of texture to the boldness of silhouette.
Read ahead to discover smart ideas on how to style white outfits:
Double Denim: White Jeans
Creating a denim-on-denim look with white clothing is the definitive way to upgrade your wardrobe with timeless style. Harmonize existing pieces in your closet with fashionable new elements and strut with the confidence of an influencer. 
From the classic men's jean jacket to the denim shirt and white jeans to cut-off denim shorts, there are endless ways to combine your favorite denim for men. A white Levi's denim jacket can be a timeless addition for those who swear by iconic brands.
Want to add some color to the look? Break up your double denim with a bright color in the form of a shirt or sweater.
Overalls & Shortalls: Casual Comfort Meets Style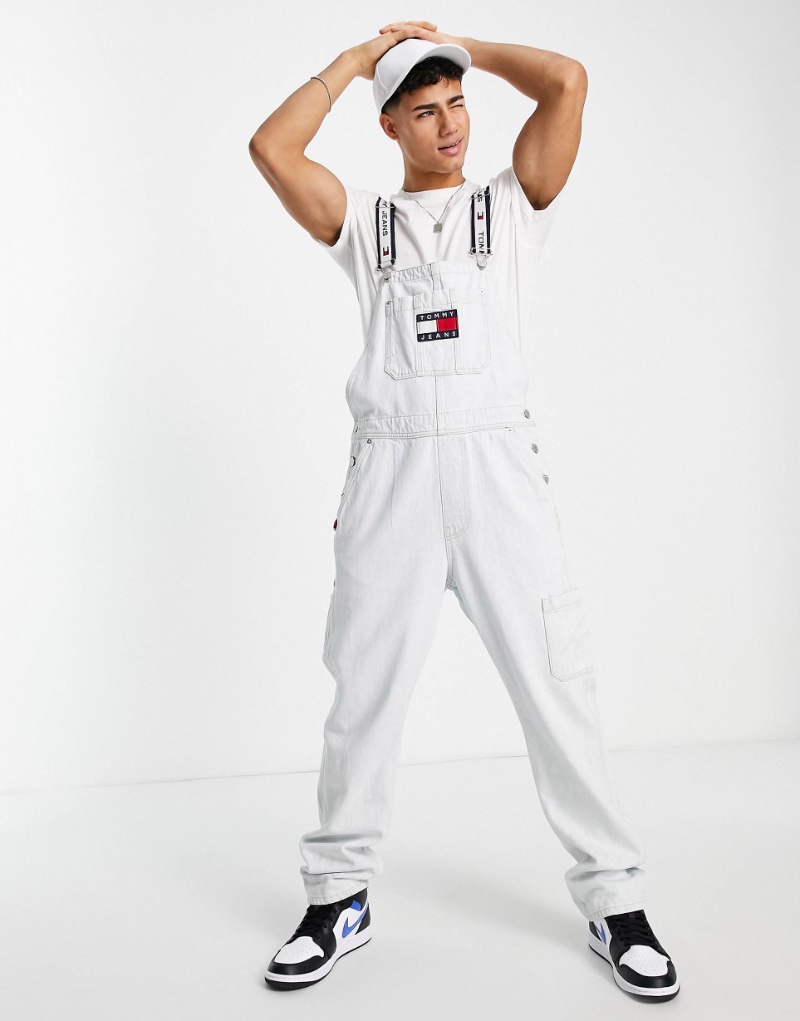 Overalls and shortalls aren't just for the farm or the 90s nostalgia trips; they've made a triumphant return to the fashion scene, especially in white variations. These one-piece wonders offer an effortless blend of comfort and style, making them a go-to choice for casual outings and relaxed weekends.
In an all white fabric, overalls and shortalls become a blank canvas, allowing your choice of footwear and accessories to take center stage. Pair them with a simple white tee or a patterned shirt peeking out from underneath for a laid-back and put-together look.
For footwear, consider white sneakers for an ultra-coordinated look. Opt for sandals to keep things breezy, whether heading to a casual brunch or a beachside barbecue.
White Outfit for Summer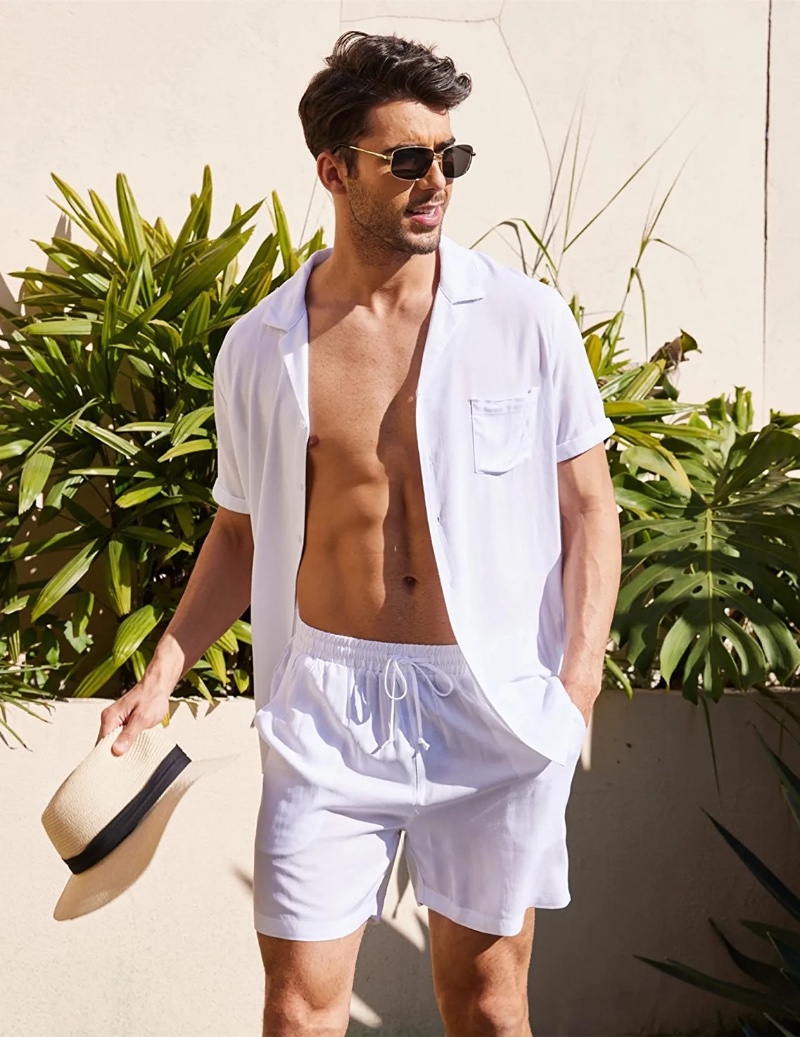 This summer, elevate your style with striking white trunks for men. Pair these trunks with a well-fitted t-shirt or a crisp white shirt for a cohesive look.
If you opt for the latter, consider the sleeve length to set the tone: short sleeves offer a casual vibe, while long sleeves rolled up at the cuffs exude relaxed sophistication.
To complete your ensemble, slip into a comfortable pair of white slides, perfect for expressing your unique style during the season's sizzling heatwave.
Athleisure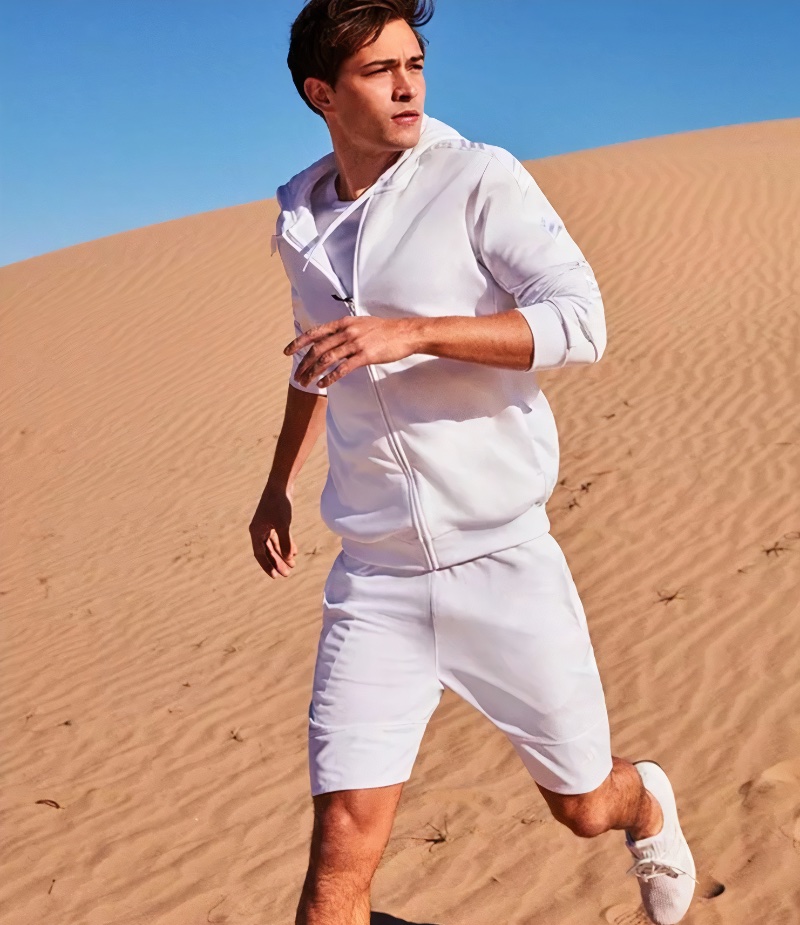 In today's fashion landscape, men find a versatile wardrobe cornerstone in all-white attire. Consider the comfort of hoodies, sweat shorts, or a game-changing white tracksuit for those who prefer not to compromise on style.
Brands like Nike offer tracksuits that are as functional as they are fashionable. Pair these essentials with slide sandals, sneakers, or espadrilles to assemble an eye-catching, effortlessly stylish outfit.
The result is a white athleisure ensemble that turns heads and boosts self-confidence.
The White Jumpsuit: A Singular Statement
The white jumpsuit or boilersuit emerges as a sartorial tour de force, offering a seamless blend of form and function. This one-piece wonder eliminates the guesswork of coordinating separates, serving up a ready-made, daring, and refined outfit.
Imagine stepping into a rooftop party, the city lights serving as your backdrop. Your white jumpsuit becomes the conversation starter, a bold choice that sets you apart from the sea of conventional outfits.
Pair it with minimalist white sneakers for a casual flair, or elevate it with leather loafers for a touch of sophistication. Either way, you're not just wearing a garment but embodying an attitude.
The Two-Piece or CO-ORD Outfit: Synchronized Style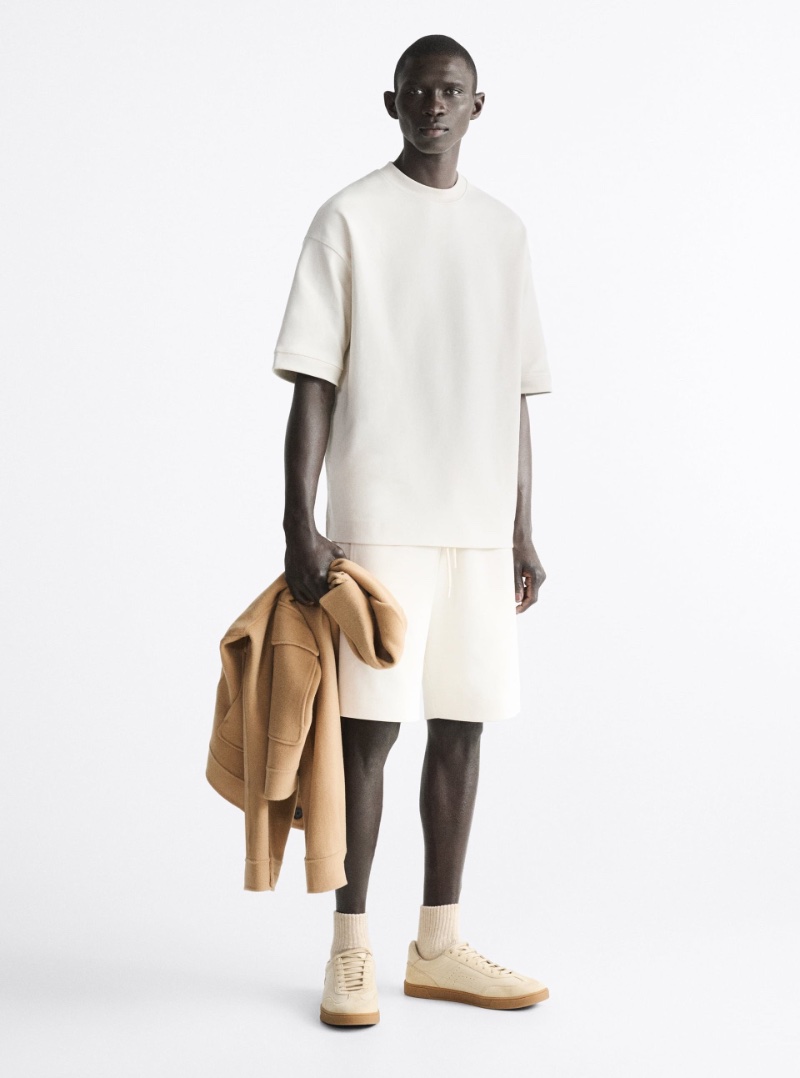 The two-piece or CO-ORD outfit offers another avenue for those looking to master the all white look. Unlike the jumpsuit, which presents a unified silhouette, the CO-ORD allows for more play.
You can mix textures, layer pieces, or even introduce subtle patterns, all while maintaining that crisp, monochrome aesthetic. Picture yourself at a beachside soirée, the setting sun casting its golden glow on the waves.
You arrive in a white linen button-down paired with matching shorts, the epitome of summer elegance. Or perhaps it's a winter gala, and you've opted for a white velvet blazer with coordinating trousers, a look as luxurious as modern.
The CO-ORD outfit offers the flexibility to adapt to any setting, making it a versatile addition to your all white repertoire.
Formal White Party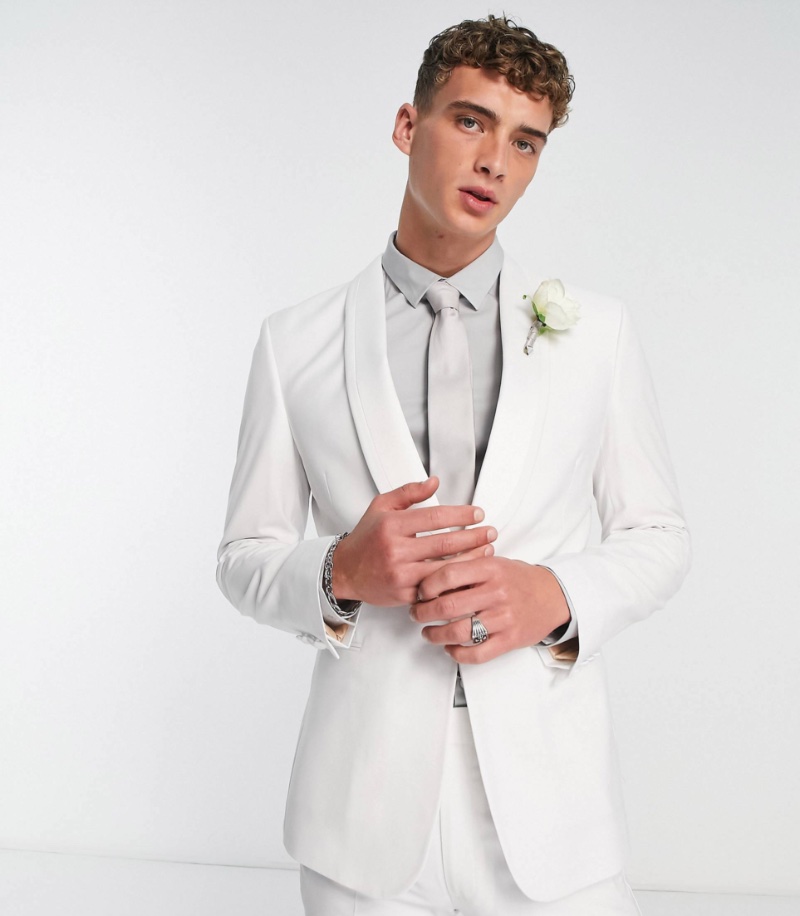 Donning an all white ensemble at formal events sets you apart with a distinct flair. Opt for a crisp white tuxedo shirt, a matching jacket, and trousers, and you've crafted an outfit that elevates the room's style quotient.
The all white outfit can also be a unique uniform for exclusive events, setting a high standard for elegance. The versatility of the all white look doesn't end at formal settings; it's equally fitting for semi-formal gatherings like beach weddings or themed parties.
A white suit epitomizes laid-back elegance in these more relaxed environments. To let the suit take center stage, pair it with a dress shirt and forgo the tie.
Consider adding a pair of minimalist cufflinks for extra class. This approach radiates chic and provides a contemporary spin on traditional formalwear.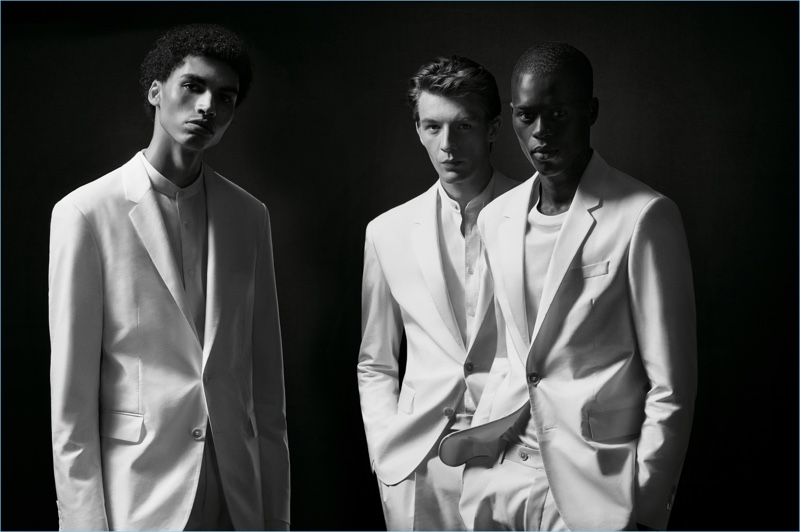 Switching gears to a T-shirt can also redefine your all white look, offering a casual yet polished vibe. Choosing sneakers and loafers becomes the final brushstroke that completes your sartorial masterpiece.
And if you're in the mood to make a statement, consider introducing a pop of color through a shirt, much like the audacity of the men's double denim ensemble.
This subtle infusion of hue can transform your all white outfit into a canvas of personal expression.
Clean Winter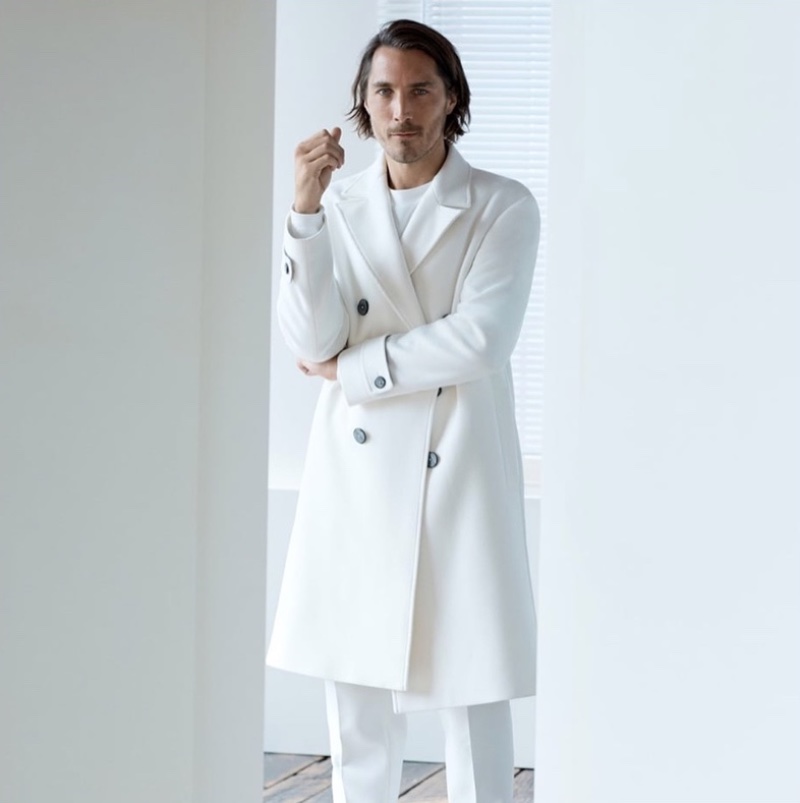 Winter sweeps in, relentless as a snowstorm, challenging you to elevate your style game. Incorporate white into your wardrobe for a look that defies men's fashion norms.
Think about adding a cashmere coat or a leather biker jacket with contemporary lines to breathe new life into the timeless allure of whites. Seize the season as an opportunity to defy fashion norms through luxurious layering.
Whether embracing winter's festivities or setting the stage for spring, these winter whites offer a seamless transition between seasons.
Smart Casual Knits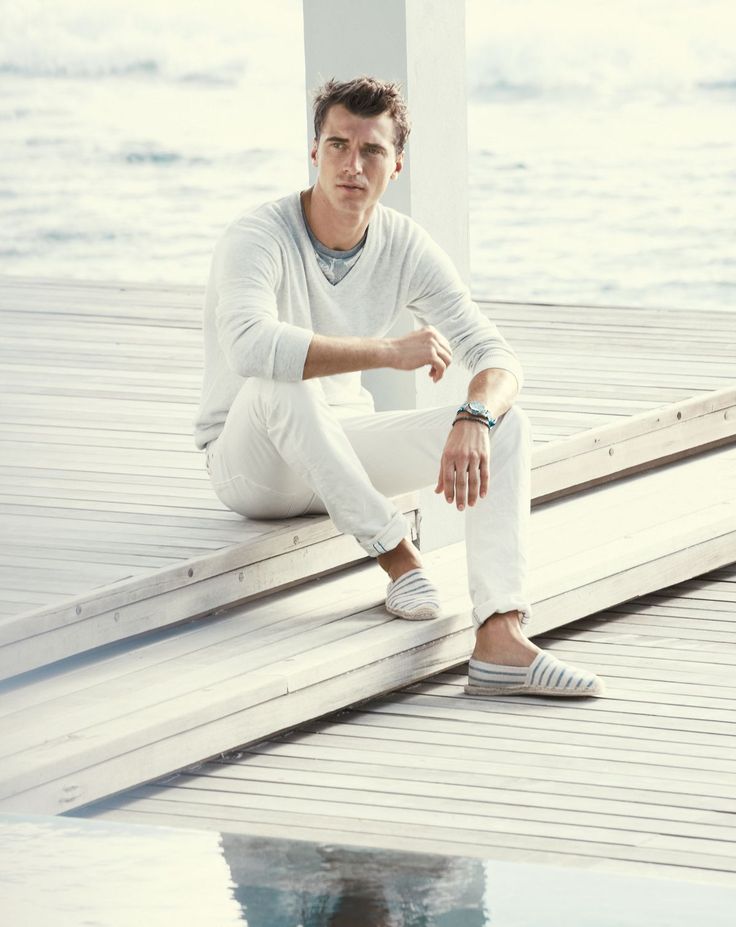 Men's knitwear, with its array of weights and fabrics, offers year-round versatility. Use white as your foundational palette to enhance your winter or summer aesthetic.
Build an impeccable outfit around a stylish sweater, complementing it with either trousers or denim to achieve a smart-casual look that speaks volumes in its simplicity.
The Short Suit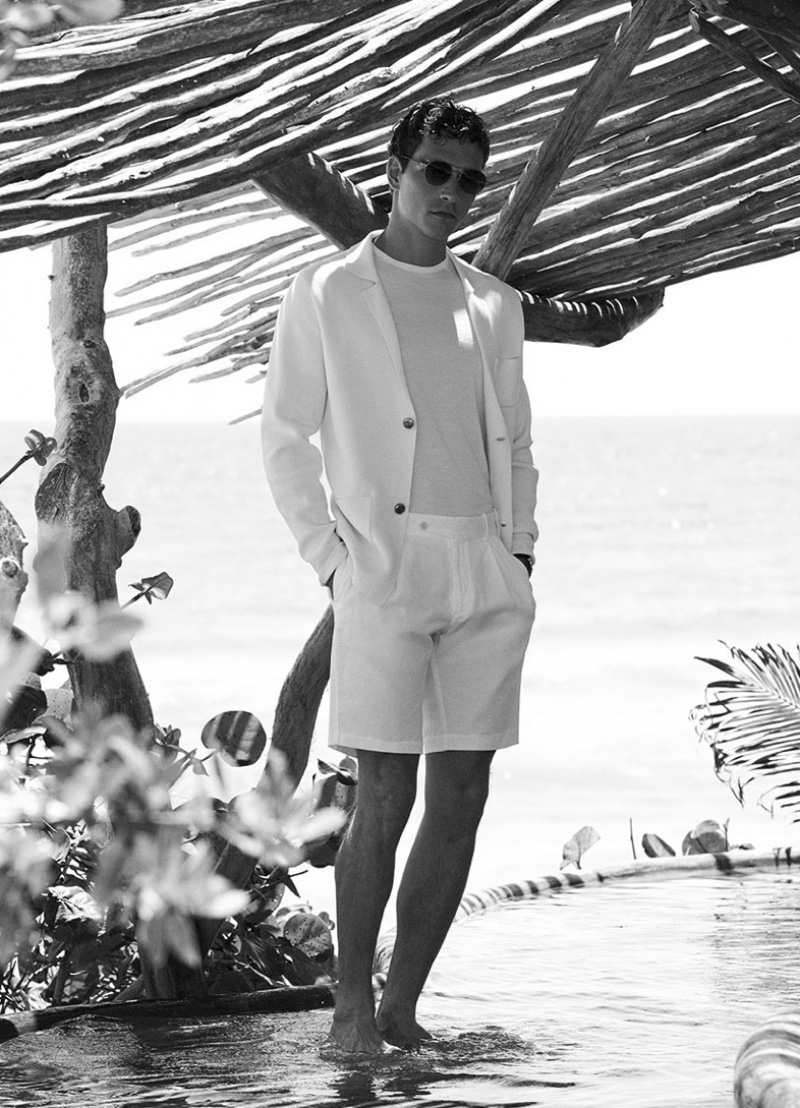 Summer has arrived, calling for a wardrobe refresh. Elevate your seasonal style with an all-white, captivating, edgy short suit.
Pair a blazer with dress shorts and a pristine white tee for an effortlessly compelling look. Seize this daring style opportunity to create an eye-catching and refined ensemble.
Make this summer one for the books by investing in this iconic white short suit, setting the stage for adventures as elegant as they are effortless.
Party Outfits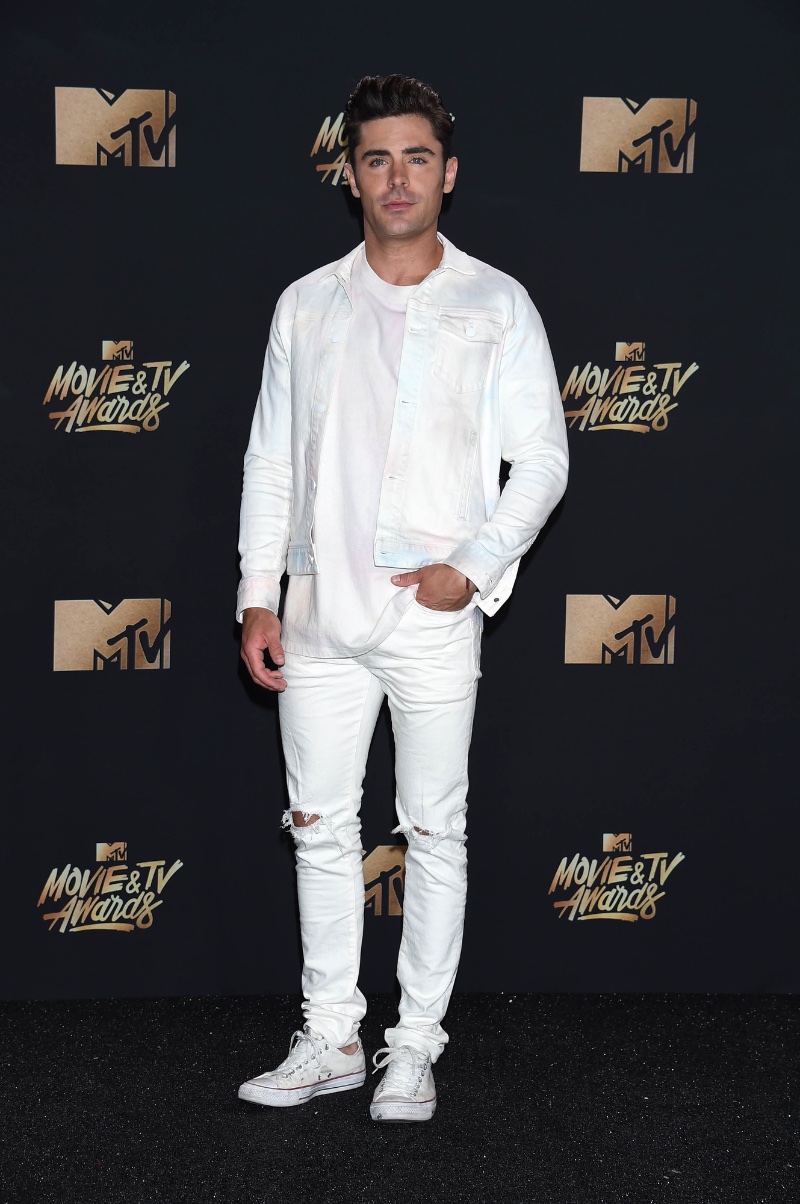 Men have a curated set of choices when crafting an all white party outfit. You could lean into the elegance of a well-tailored suit or embrace the laid-back vibes of summer with white linen pants and a relaxed shirt.
The linchpin? Ensuring each piece fits impeccably and is crafted from premium materials. Perhaps consider incorporating a standout accessory—a patterned pocket square or a statement timepiece to inject a dash of individuality.
The endgame is to radiate both confidence and sophistication, so opt for elements that elevate your comfort and style quotient. Armed with the right ensemble, you'll be the best-dressed man in the room and set the ambiance for an unforgettable evening that's as chic as it is.
White T-shirt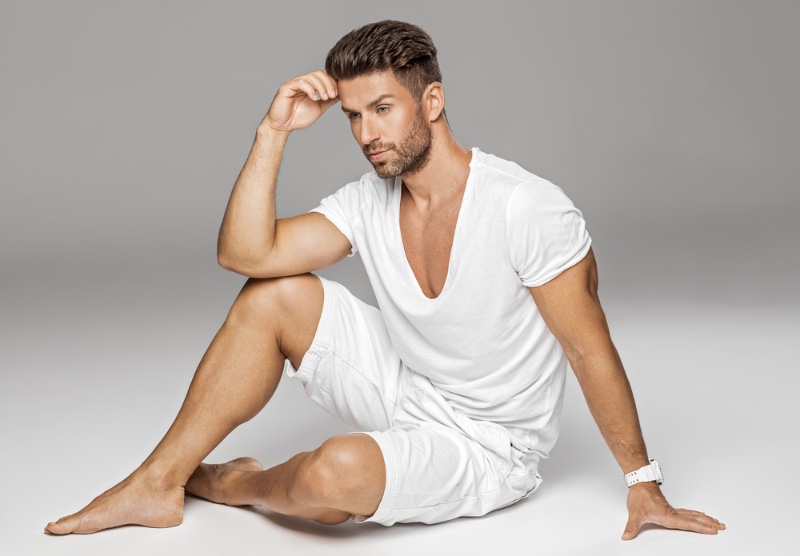 Crafting an all white outfit is a bold act that demands self-assurance and a discerning eye for fashion. For casual wear, the classic white t-shirt is timeless.
Brands like Hanes offer options tailored to your comfort needs. When selecting your tee, focus on three pivotal elements: fit, fabric, and finesse.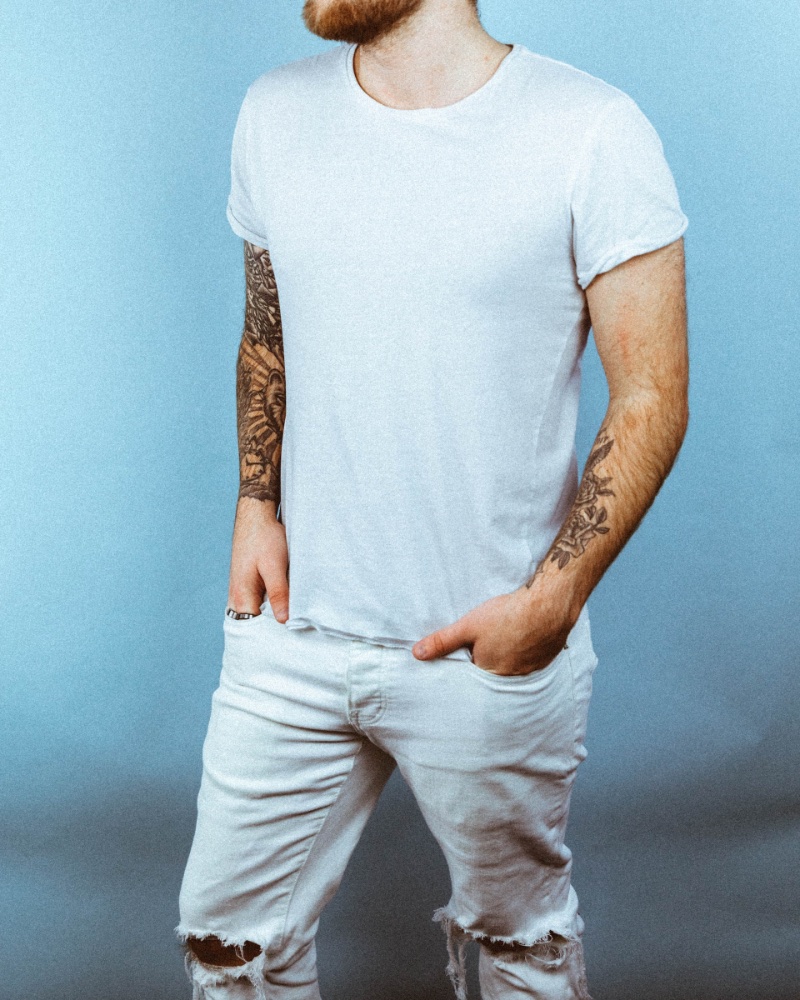 Opt for a t-shirt that impeccably hugs your frame, ensuring comfort and a streamlined silhouette. To add layers of nuance to your ensemble, consider subtle details like a textured stitch or a discreet branded patch.
Complete the outfit with immaculate white trousers or well-tailored shorts, and finalize the look with pristine sneakers or refined loafers.
Make a Statement with White Accessories
The all white outfit for men has recently gained attention for its bold elegance and ability to leave a lasting impression. The shift from casual to extraordinary hinges on the artful incorporation of accessories.
Consider shoes, hats, bags, refined belts, or eyewear selected for complementary hues and textures. A silver or white gold ring can also serve as a subtle yet impactful addition, elevating the ensemble with sophistication.
Eyewear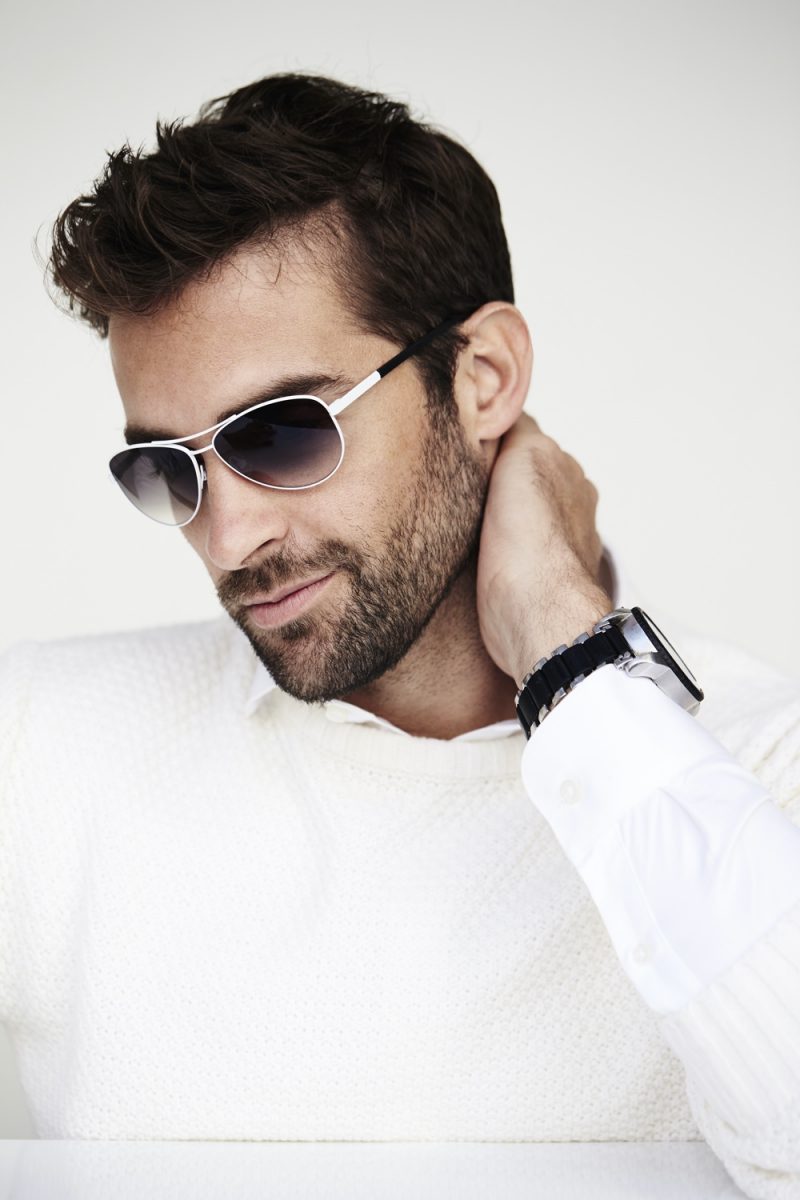 Elevate your all white ensemble with a striking addition: white-framed eyewear that serves as a focal point, amplifying the allure of your pristine outfit. Prepare to redefine your eyewear style.
The digital marketplace is awash with chic white frames, making finding a pair that melds fashion with function effortless. Thanks to cutting-edge technology, you can now virtually try on frames, eliminating the need for time-consuming visits to the optician.
Belts or Bags (or Better Yet, Both)
Elevate your all white ensemble to new heights by accessorizing with precision. Introduce contrast to white suits or texture-deficient outfits by opting for off-white accents, creating a visually arresting look.
Consider a messenger bag as your go-to accessory if you're constantly on the move. For a simpler touch, a belt is a fail-safe option.
A light brown leather belt, in particular, can seamlessly disrupt the monochrome palette, adding a layer of sophistication to your all-white attire.
Sneakers
Pay attention to the power of footwear in perfecting your all white ensemble. White sneakers, particularly those in leather, are a foolproof way to round off any look.
Alternatively, white Converse sneakers can add a nostalgic yet modern twist for a retro vibe. Team up your white jeans or trousers with these crisp kicks for an effortlessly refined casual aesthetic.
Opting for white sneakers keeps you on-trend and offers a comfortable yet chic option for any occasion.
Tips for Wearing All White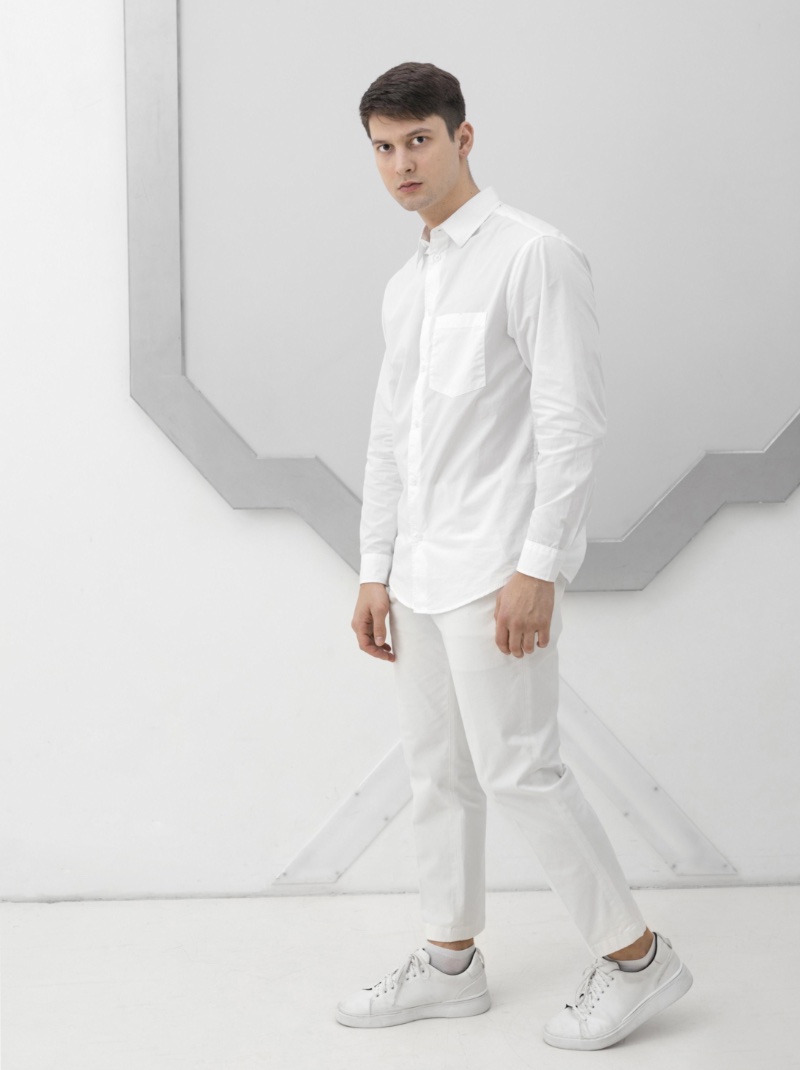 Venturing into an all white ensemble may seem like a high-stakes gamble, but with the right strategy, it transforms into a pinnacle of chic. While white may be a revealing hue, the key lies in curating and carrying the look.
Factors like seasonal fabric choices, textural diversity, understanding the nuances of white shades, and tailoring the outfit to your body type are essential. Whether it's cotton shorts for a sun-soaked beach outing or a snug cashmere sweater to fend off winter's bite, all white attire is a daring yet versatile option.
Seasonal Considerations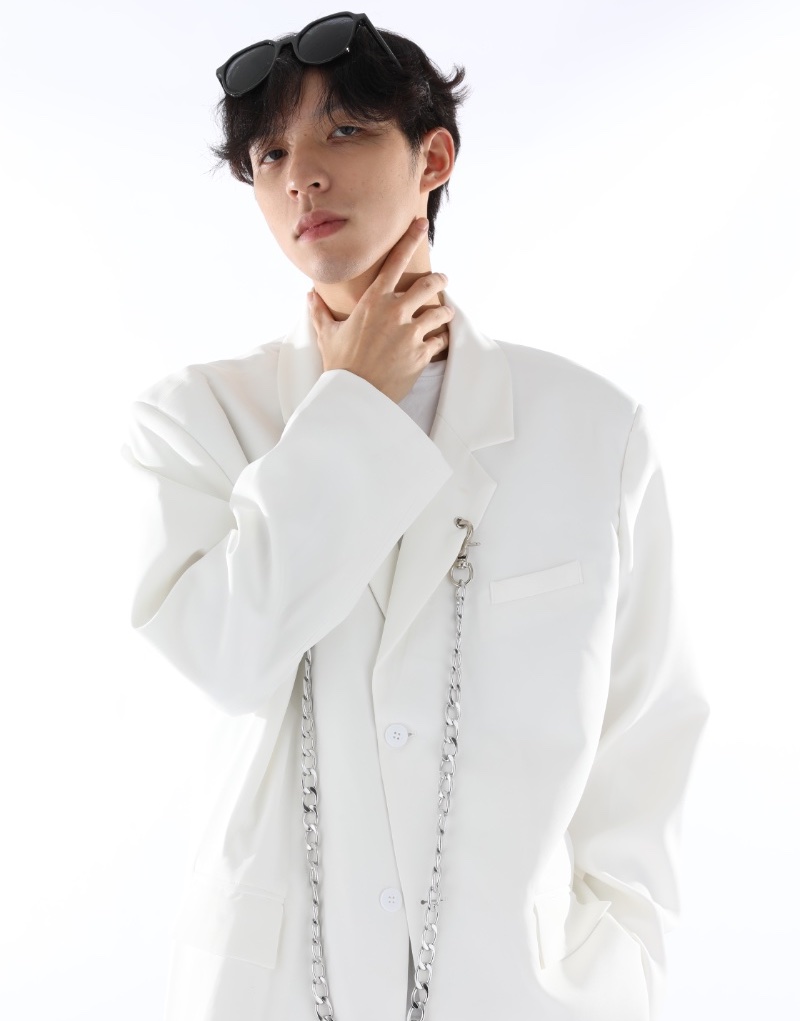 The allure of an all white ensemble isn't confined to any particular season; it's all about selecting the suitable fabrics. For the sweltering summer days, opt for breathable materials like cotton and linen to maintain comfort and style.
Imagine a white linen shirt and cotton shorts, a perfect ensemble for beach outings or laid-back weekends. When winter's chill sets in, turn to more substantial fabrics like wool or cashmere for warmth.
Incorporating a white wool sweater or a cashmere coat elevates your winter attire and infuses it with elegance. For an added touch of luxury, consider silk shirts or pocket squares, which offer a subtle sheen that cotton can't match.
Experiment with Textures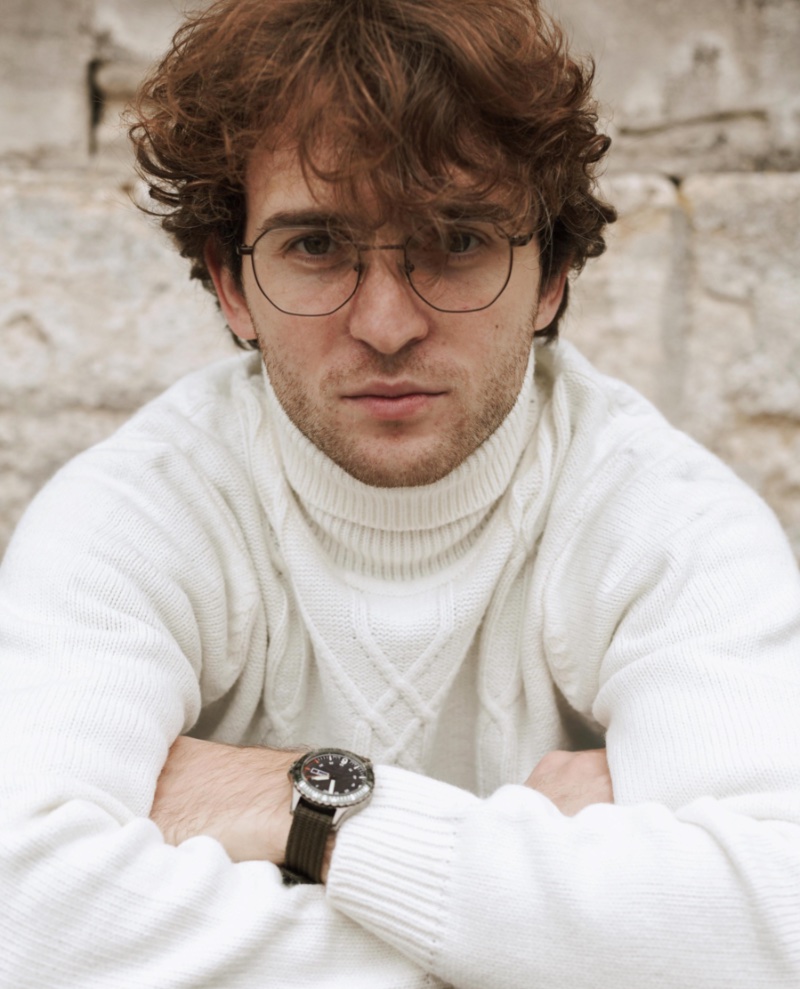 An all white ensemble doesn't have to be a one-note affair. Introducing varied textures and patterns can infuse your outfit with layers of intrigue.
Consider a soft white cable knit sweater paired with chinos for a relaxed autumn vibe or a white seersucker suit when attending a summer function.
Blending different materials, such as denim and cotton, offers subtle contrast while maintaining a unified appearance. Incorporating patterns like white-on-white stripes, polka dots, or floral prints can disrupt the uniformity without straying from the color palette.
Shades of White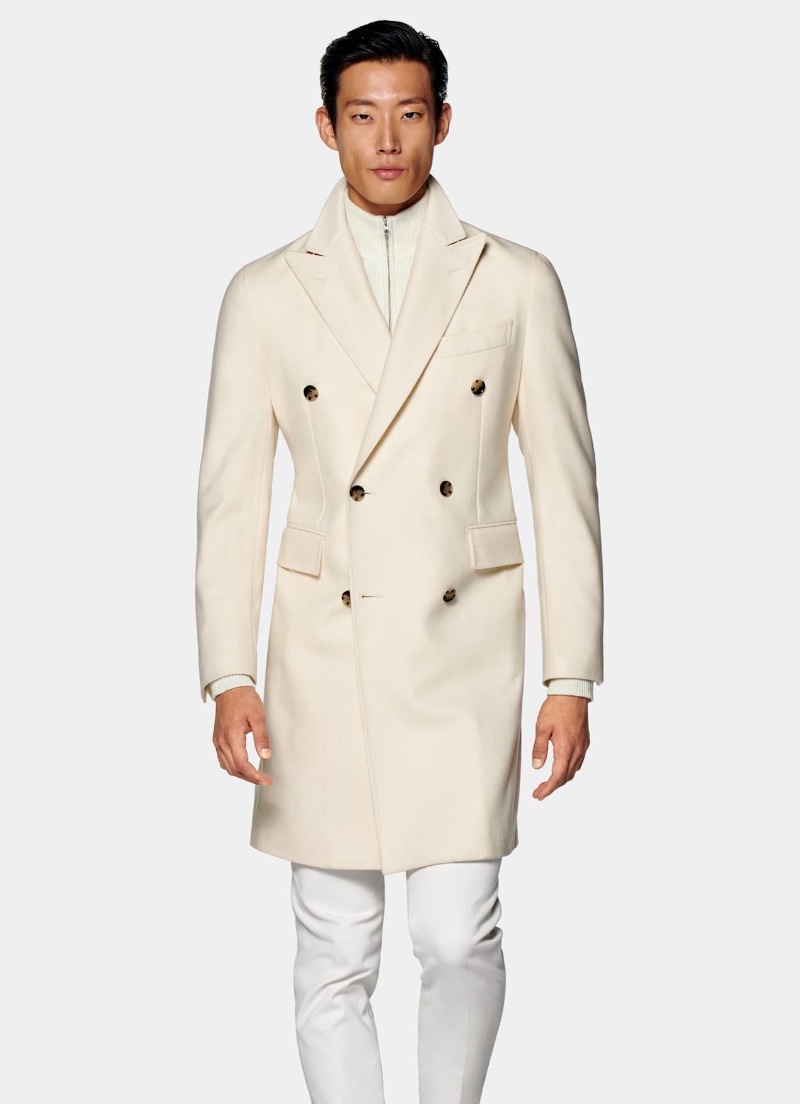 The notion that only specific skin tones can successfully don an all white ensemble is a myth. The reality is that white can flatter anyone; it's all about pinpointing the shade that best complements your complexion.
For those with cooler skin tones, a pure white or a white tinged with blue undertones may be the ideal choice. If your skin has warmer undertones, you might find that an off-white or a yellow-tinged white suits you better.
The shade you choose can also affect visual perception. A crisp, bright white can make you appear more vibrant, while an off-white offers a softer look.
Feel free to explore shades of white to discover the one that most effectively enhances your skin tone.
Dressing for Body Type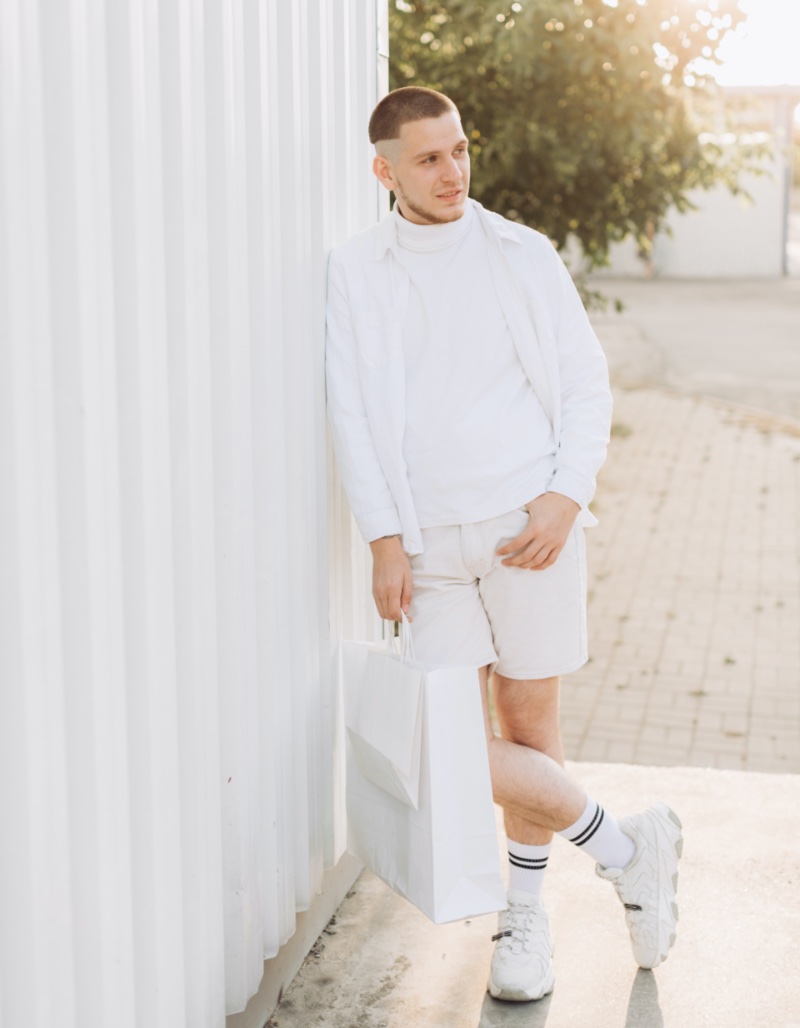 Mastering the all white look is less about following trends and more about tailoring the ensemble to your body type. For taller men, an all white outfit can visually segment their height, making them appear less imposing.
Conversely, shorter men can create the illusion of added height by opting for pieces that draw the eye upward, such as an untucked button-down shirt paired with slim-fit trousers. If you're slender, consider layering pieces like a white denim jacket over a tee to add volume.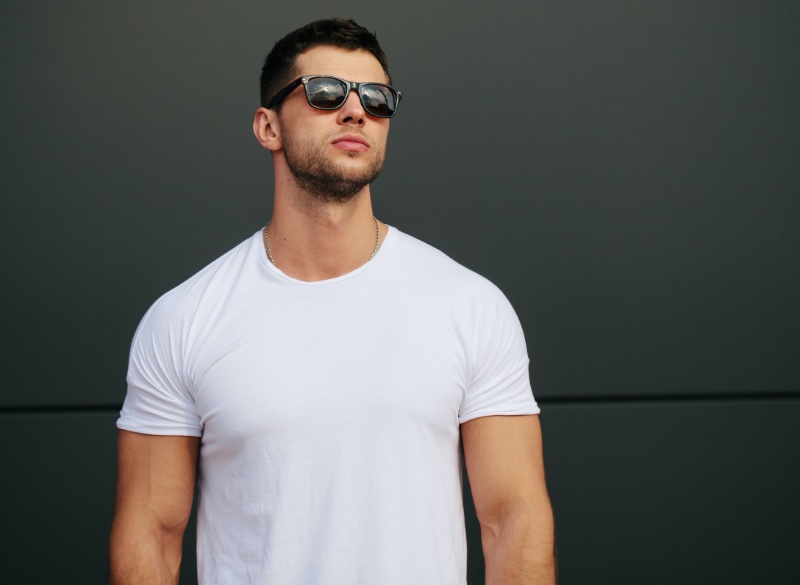 For those with a more robust build, well-fitted garments that don't add extra bulk will be your go-to. Broad-shouldered men might opt for a well-structured blazer that accentuates the shoulders, adding a masculine edge to the all-white look.
Pay attention to button placement on shirts and blazers; it can dramatically affect how the garment fits and flatters your form. Understanding your body's unique dimensions allows you to customize an all white ensemble that looks chic and flatters your physique.
Dressing in All White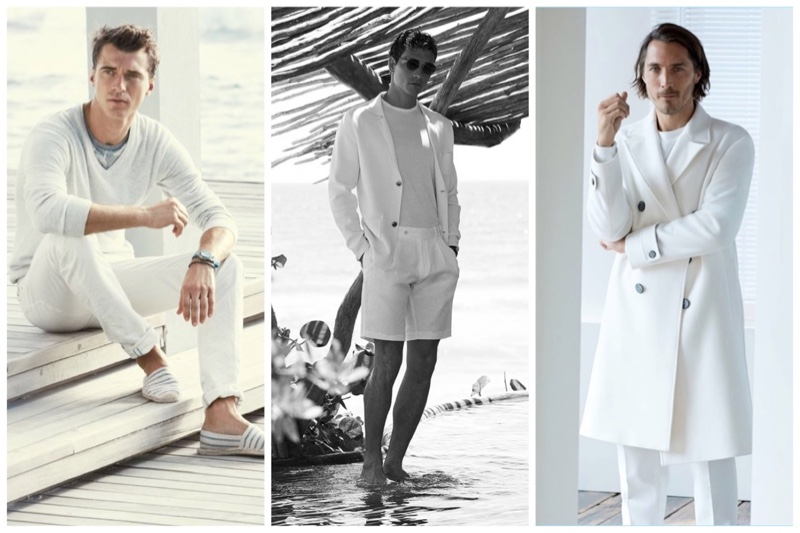 The styling options for an all white outfit are as limitless as your imagination, spanning from winter whites and white denim to short suits and accessories like eyewear, belts, bags, and shoes.
Whether you're aiming for a polished look fit for grand events or a laid-back yet chic outfit for daily wear, these insights offer a roadmap to fashion choices that will capture attention.
Feel free to dabble and introduce splashes of color if you wish—the ultimate goal is to discover what resonates with your style. With this guide, seize the opportunity to make a lasting impression at any event with your unique all white outfit.