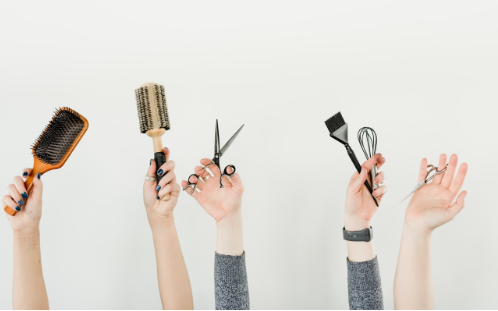 10 Reasons Why You Should Become a Hairstylist
To become a stylist, you'll need to spend at least a year at a beauty college. But before you pack your bags, you should think about why you want to pursue a career as a hairstylist.
1. Creativity and Self-expression 
As a hairstylist, you have the opportunity to be creative and express yourself through your work. You can use your skills and artistic vision to transform clients' hairstyles and help them feel confident and beautiful. Hairdressers can even try out new looks on willing hair models. 
2. Flexibility and Movement 
A career as a hairstylist can offer flexibility in terms of scheduling and location. Many stylists work on a freelance or part-time basis, which allows them to set their own schedules and choose when and where they work. Some professionals open up a salon in their basement.
3. Opportunities for Advancement 
There are many opportunities for advancement within the hair styling industry, including becoming a salon owner, a social media influencer, or a hair care product representative. If you're an expert at your craft, you can become a journeyperson and make more money.
4. Personal Fulfillment
Many stylists find great fulfillment in helping clients look and feel their best. Seeing the positive impact of your work on others can be extremely rewarding. In fact, hairdressing is rated as one of the happiest jobs on the planet because the level of personal satisfaction is incredibly high.
5. Fantastic Income Potential 
With the right training and experience, hair stylists can earn a good income. The average annual salary for a hairstylist in the United States is $34,000, but they can earn six figures or more per year if they work in the right field. Many freelance or celebrity stylists make $120,000 per year.
6. Ongoing Education and Training 
The hairstyling industry is constantly evolving, and there are always new techniques, products, and trends to learn about. As a hairstylist, you have the chance to continue learning and growing in your career. You can also sign up for training courses or earn special qualifications.
7. Excels in Work Variety
Every day as a hairstylist is different, and there's never a dull moment when you're working with clients. If you have an extra esthetic skill, such as waxing or installing eyelash extensions, you'll constantly be moving between stations. This can keep your work interesting and rewarding.
8. People-Focused Industry
Depending on your personality, working in a people-focused industry won't be too appealing. For those that love the thought of speaking to lots of new people daily, becoming a hairstylist is a great choice. Plus, you'll make many friends and business connections through work.
9. Making a Name for Yourself
In many other industries, workers are treated as an extension of the brand rather than a part of it. As a hairstylist, you create your own brand, persona, and market the minute you start your first day on the job. This opens up doors for you in the industry as well as on social media.
10. Improved Interpersonal Skills
If you want to work on your interpersonal skills, become a hairstylist. Since you're speaking to so many people day in and day out, you'll start to understand what makes each customer tick. This skill is essential for building your client base and could help you if you leave the industry.