Building and accessing credit isn't always easy. In fact, it can be downright difficult to build credit in the traditional ways. 
Luckily, new companies are creating opportunities to improve your credit and access the funds you need with the help of innovative apps. 
Grain is one app that helps you get cash and build credit at the same time. However, it's not the only option out there. We've found the best apps like Grain that can help you improve your credit. 
What is Grain?
Grain offers a virtual credit card that allows you to build credit based on your debit card transactions. But, instead of giving you an extra card to carry around, you receive a credit line that is deposited into your checking account. 
In practice, this looks like a cash advance. If approved, Grain will provide you with an unsecured credit limit of up to $1,000. You can transfer these funds into your checking account for use through your debit card. 
At the end of every month, Grain will report your balance, credit limit and payment history to the three major credit bureaus. Through this process, you can build credit with on-time payments. 
Although you aren't required to pay off your entire balance every month, the remaining balance is subject to a 15% interest rate. 
The bottom line is that Grain can help you build credit in an accessible way, and you'll have access to cash quickly. If you manage this line of credit responsibly, you should see your credit score rise over time.
Top Apps Like Grain
Grain is just one of many apps that provide accessible credit-building options. Each app offers a unique twist on the credit building experience or an opportunity to access cash when you need it. 
In alphabetical order, here are some of the best apps like Grain. 
1. Brigit Card
Brigit is an app that offers cash advances of up to $250. The platform boasts that it has over three million members and only takes two minutes to sign up.
When you choose to use Brigit, there's no credit check required. This helps safeguard your credit. There are also no interest charges.
This app offers a free and paid plan. The free option provides alerts, budgeting tools, financial insights and more. 
However, if you pay a $9.99 monthly fee, you'll get additional perks. These include instant transfers, flexible repayment, a finance helper and more. 
Beyond providing relatively quick access to cash, Brigit offers credit reporting to the three major bureaus. You can even open a credit builder account for as little as $1 per month. 
According to the company, the average Brigit user increases their credit score by 60 points as long as they have a positive payment history. 
Pros:
Avoid overdraft fees
Free alert option
Credit reporting built-in
Cons:
$9.99 fee for certain features
Requires bank account access
2. Cash App
Cash App is well-known as a platform that offers an easy way to send and receive funds. That said, you may not know that Cash App offers an opportunity to take out loans through the platform. 
Yes, you read that correctly. You can take out small loans through Cash App. 
Once you take out the loan, you can use your Cash Card to spend the funds. The Cash Card is a debit card that has access to your Cash App balance. 
Any payments you make to these loans are reported to the credit bureaus. If you consistently make on-time payments, Cash App could help you increase your score.
A unique feature this app offers is the option to use Boost with your Cash Card. The Boost allows you to save money on purchases at certain merchants. 
Check out our full review to learn more.
Pros:
Easy to use platform
Save money using Boost
Cons:
Limited information available
Terms and conditions unclear
3. Chime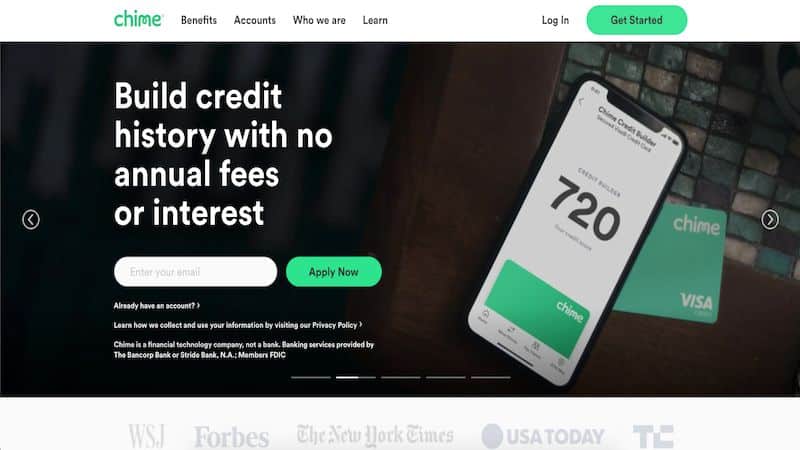 Chime is an online fintech that offers basic financial management services to its users. One of the many features offered by Chime is the Chime Credit Builder Secured Visa Credit Card. 
You'll need to be a Chime customer with a Chime Spending Account, which acts as a checking account, to access this credit-building opportunity. 
Once your Chime Spending Account is set up, you'll create a spending limit for your Chime Credit Builder Secured Visa Credit Card by transferring funds from one to the other. 
The transferred amount will act as your credit limit. Chime will lower your available credit each time you make a purchase. 
When a full payment is due at the end of the month, you can use Chime's Safer Credit Building feature to make sure the bill is automatically paid. 
Essentially, this offers a foolproof system for credit building. However, you won't have access to cash advances along the way. 
You can learn more about the Chime Credit Builder Secured Visa Card in our full review. 
Pros:
No fees
No interest 
Automatic payment feature
Cons:
Spending account required
No unsecured credit option
4. Earnin
Earnin is a loan app that offers the opportunity to get paid for the work you complete today. 
The process starts by downloading the app and connecting it to your bank account. With this, Earnin can determine how and when you get paid. 
A built-in GPS feature allows Earnin to track when you are at work. If you work on a particular day, Earnin will credit your bank account for the funds you earned. Once you receive your paycheck, the app will repay itself with your paycheck. 
It's absolutely free to use this app. That said, you will have the option to leave a tip if you want. 
Pros:
Get payday funds early
Free to use
Cons:
Only for full-time employees
No credit building aspect
5. Jasper Card
If you are looking for access to a credit card without a stellar credit score, then the Jasper Card is a worthwhile option. The card is available to those with bad credit or limited credit history. 
You won't have to put down a security deposit to start using the card. 
The Jasper Card does report to the three major credit bureaus. Plus, you'll earn 1% cash back on your purchases. You'll even have the option to earn up to 6% cash back if you convince six friends to sign up for the card. 
These limited rewards are still attractive for those with low credit scores. 
The best use for this card is to consistently make on-time payments to improve your credit. Then, you can consider upgrading to a more rewards-heavy card when you have the chance. 
Pros:
No annual fee
No security deposit
Cons:
Minimal rewards
Increasing credit requirements
6. Line App
The Line app is designed for working professionals. Depending on your situation, you can access between $10 to $1,000 lines of credit through Line to cover emergencies. 
You'll pay anywhere from $1.97 to $9.97 per month for Line based on the plan you use.
When you work with Line, the app will help you build a better plan for your finances. Line monitors your checking account for potential overdrafts. If you need a fast line of credit to avoid the fee, Line app can provide that without regular credit checks. 
The current features are helpful, but Line seems to be just getting started. There are many features in the works for this app, so it could be more enticing in the near future. 
Pros:
No interest
Credit monitoring included 
Cons:
Monthly fee required
Requires bank information
7. Point Card
The Point Card is a debit card that offers rewards and benefits that you might be used to seeing with credit cards. But, unlike credit cards, the Point Card comes with no risk of overspending. 
When you sign up for the Point Card, there is no credit check involved. Currently, the Point Card Neon offers 5x points on some subscriptions, 3x points on food delivery and 1x points on everything else. 
Although there is no credit check required, there is also no credit reporting. You won't have access to any extra funds, but you also won't have the temptation of spending more than you can afford. 
The Point Card is best for those who need to avoid the temptation of a credit card or payday loan. You'll still earn rewards for your spending, but the Point Card protects your credit by limiting your credit options. 
With that, you can't do any damage to your finances. 
It's also important to note that you will need to pay a $9.99 monthly fee for this card.
Pros:
FDIC insured account
No credit check
Cons:
$9.99 monthly fee
No credit reporting
8. Possible Finance
Possible Finance offers a payday loan alternative that allows you to borrow up to $500 at a time. Although there is no credit check, the company will assess your ability to repay the loan based on your paycheck. 
When you take out a loan through Possible Finance, you can choose your loan repayment dates. If you run into issues during the eight to 12-week repayment period, you can delay payments. 
However, the sky-high interest rates could be a dealbreaker if you have another interest-free option. 
As you repay your loan, Possible Finance will report your payments to all three credit bureaus. With that, there is an excellent opportunity to build credit with this platform. 
That said, it's one of the most expensive options on this list. Fortunately, the company is in the process of coming out with other products that won't be as expensive.
Pros:
No origination fee
Pay in four installments
Cons:
High interest rates
Limited customer service
9. Self Card
If you are serious about building credit, then the Self Secured Visa Credit Card is an option. However, you'll need to have a Self Credit Builder account for at least three months before you qualify for this secured card. 
A credit builder loan requires you to make monthly payments, but you won't have access to the loan principal upfront. Instead, Self will tuck away these funds in a savings account. 
The Self Secured Visa Credit Card allows you to use a portion of these locked savings as your credit limit. 
With that, you won't have to make a separate upfront payment. Instead, you can take advantage of the savings you are already building with Self. 
There's no credit check to start using this credit card. With regular credit reporting, this could be the path to a better credit score for those able to make on-time payments consistently. 
Pros:
No upfront security deposit
Credit reporting
Cons:
High interest rates
Need a Self Credit Builder account
10. Vola
Vola offers cash advances of up to $300. It only takes a couple of minutes to get started with this app.
As a cash advance app, Vola looks at your checking account cash flow to help you avoid overdraft fees. If Vola spots any potential overdraft issues, you can take out a cash advance to avoid a hefty fee. 
Depending on your needs, you'll have to pay a monthly fee between $2.99 to $28.99. But, you won't run into the interest charges that are normally associated with cash advances. 
In addition to cash advances, Vola offers spending insights based on your checking account activity. If you are struggling to pay bills on time, these insights could help you level out your finances. 
Pros:
Quick access to cash
Spending analytics 
Cons:
Monthly fee
Negative customer reviews
Summary
When it comes to accessing and building credit, you'll find many solutions that could meet your needs. Using one of the apps above could be the solution you've been looking for. 
Since good credit can open the door to thousands of dollars in savings on major financed purchases, working to build your credit score is absolutely worth it. 
Plus, the merits of accessing cash when you need it speak for themselves.